Current Harvest
Image, message and presentation… explore VFC's brand management CASE STUDIES to discover how we proactively partner with clients to reach real objectives.
> Dig in!

FRESH NEWS from VFC! From client success stories, studio advancements, marketing analysis, D.I.Y. tips and insights into the continually evolving advertising universe, Virtual Farm Creative presents a BLOG about, for and by small business.
> Explore The Crop!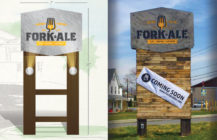 Shortly after conceptualizing a unique and memorable identity for a new restaurant venture VFC was enlisted to collaborate with the restauranteurs on interior decorating, color schemes, environmental branding and signage.
In November 2009, just a few short, sad months after Harry Kalas called his last game, VFC's creative director, Todd Palmer was contacted by his good friend and college roommate, Lawrence Nowlan. Nowlan asked VFC to join him in a very special project— to forever memorialize Harry Kalas where he should be memorialized… at Citizen's Bank Park.
Virtual Farm Creative has been presenting persuasive public relations programs integrated with powerful marketing plans since 1999. VFC thrives on telling the most compelling client stories and on making every client story compelling.