Rapidough Pizza Pies Invents a Party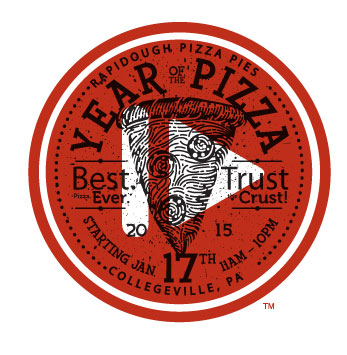 EVENT SUPPORT
A new eatery in the back corner of a shopping center that includes a sea of competition needed a way to break out and get noticed. VFC collaborated with the owners of the clever and creative Rapidough Pizza Pies in Collegeville, Pennsylvania, to plan a party that would would bring people out and get them talking.
The Year of the Pizza kick-off event was scheduled to be a full day of compelling content designed to pack the place while contests and offers contributed to the buzz about the best pizza ever. VFC booked bands and got a local brewery and craft spirits distiller to provide samples while the Rapidough crew passed out balloons and commemorative t-shirts.
As a first-time event organized in less than ten days, the Year of the Pizza celebration introduced the brand and the cuisine to scores of new customers while showcasing the unique offering. A survey of attendees yielded positive feedback, as well as useful, constructive criticism that will assist the new restaurant as they fine-tune the brand and prepare to open a second location in West Chester, Pennsylvania.
SOCIAL MEDIA
VFC initiated an aggressive social media effort to promote the Year of the Pizza campaign as powerfully as possible while engaging consumers and introducing the Rapidough Pizza Pies brand to a new set of potential consumers. Scheduled posts promoted the party and all of the attractive inclusions available that day.
The craft beer and craft spirits collaboration reached reciprocal audiences while two separate social media challenges educated consumers about the product and the process. Customers who tweeted #easyaspizzapie after successfully ordering with the restaurant's unique iPad interface received a one-of-a-kind t-shirt design and everyone in attendance was entered to win a free pizza every month for a year when they tweeted a photo from the event with the hashtag #yearofthepizza. In the end, Rapidough decided to award everyone who entered the pizza prize for the inaugural event!
VFC is planning another unique event for Rapidough Pizza Pies while organizing several large events for other clients that will promote and grow brands and businesses.