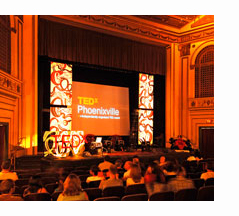 I am on the board of TEDxPhoenixville which recently prompted one of my friends to ask:
"What is TEDxPhoenixville."
THE TED PHENOMENON
First you have to know what TED is. TED stands for Technology, Entertainment and Design and it is a week long conference in several areas around the globe where the world's most innovative and engaging, speak and perform. At the same time, it has become an online phenomenon, as millions of people become inspired by the 18 minute and under TEDtalks on TED.com.
TEDx EQUALS INDEPENDENT
In fact, the popularity of TED has grown so quickly that TED developed a way for communities everywhere to organize, program and present their own events. The events, called TEDx, are licensed by TED but locally operated 100%. There is a lot of creative latitude in organizing a TEDx event from the theme to the speakers, promotions, presentation, stage design and more. Some things are standardized by TED, so that hopefully all events are excellent, but it's mostly up to small groups of people. There was a TEDxOilSpill, TEDxVolcano and a TEDxNYC, TEDxAustin and hundreds of others scheduled each year.
TEDx COMES TO PHILLY REGION
TEDxPhoenixville, in its second year, was the first TEDx event in the Philadelphia area. It was started by the assistant director of the Colonial Theatre in Phoenixville, Pennsylvania and that is where it is held. Performances and talks are unique, original, engaging and compelling and the format moves quickly… it's a highly entertaining and educational day! People of all ages are inspired by what they see and hear.
MONTHLY SALONS
Because TEDxPhoenixville has the amazing Colonial Theatre as our host venue we also do something extra, something unique. Each month leading up to the live event, we hold a TEDxPhoenixville SALON where up to 50 people come and watch TEDtalks and see a live performer. The salons help to educate people about what TEDxPhoenixville is and build excitement about the annual live event, held in September.
PLEASE JOIN US!
You can lean more about TEDxPhoenixville and buy tickets to any of the salons or the September 24, 2001 live event at the TEDxPhoenixville website.
Last year's TEDxPhoenixville theme was Joy Ride where presenters from a variety of disciplines spoke and performed about passion, happiness and joy! This year our custom theme is Mind Blender and artists, authors, scientists, musicians, business people and poets will dazzle an audience of up to 600 in the auditorium of Phoenixville, Pennsylvania's historic Colonial Theatre!.