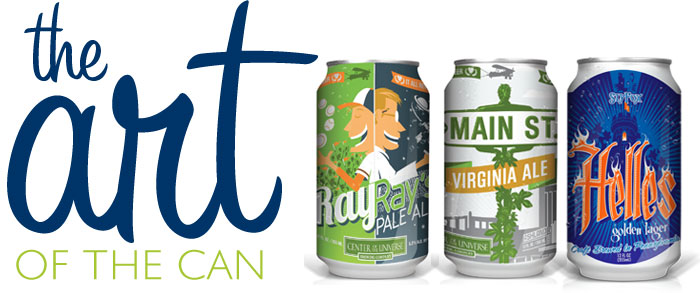 Artistic canvases customers
can hold in their hands!
This month VFC sent three new beer cans into production and, as more and more craft breweries discover the value of cans over bottles, we expect to do more… perhaps the most compelling design is coming in May, 2013.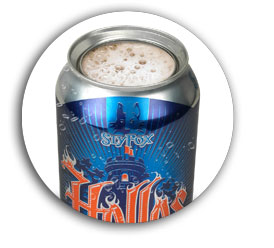 SLY FOX BREWING –  HELLES GOLDEN LAGER
A long time favorite in the Sly Fox Brewing Company's suburban Philadelphia pubs, this Munich Light Lager is more complex, interesting and, well, tasty than most mainstream lagers and we wanted the can art to reflect that and the historical story of Helles. Additionally, this can introduced a new lid technology that allowed the entire top to be safely removed so the can can drink like a glass leading to a wider audience seeing this bold can design.
CENTER of the UNIVERSE – MAIN STREET VIRGINIA ALE
We like it when small brands are proud of their heritage, their culture and their home. Building a strong sense of community is something a chain, national brand or public company can never do and it's an awesome position to exploit for smaller players. Here, a brewery based in Ashland, Virginia embraces the name in the brand and the image of the community in the art and flavor of one of their flagship brands.
CENTER of the UNIVERSE – RAY RAY'S PALE ALE
Ray Ray isn't a person but he is a clever marketing device that helps to position a product in a universe filled with heavy competition. Brothers Chris and Phil Ray, a former Major League Baseball pitcher and NASA engineer respectively, run the brewery that makes this Pale Ale– a tribute to themselves and their partnership. VFC expects that the Janus-like art treatment will become popular as the brewery expands promotion.