Warm up your seasonal business! It's not just your business region that gets slower than a sled on pavement around this time of year. Business everywhere starts tailing off as employees tip the scale of professional productivity in favor of personal proclivities. In fact, if you were to do a study I'm certain you that you'd find productivity steadily trends down every day from Thanksgiving until we start using a new calendar. The trick is to implement marketing tools that will counteract that pesky holiday spirit and keep your business in the black while everyone involved is red and green.

A marketing campaign developed specifically for the period between Thanksgiving and New Years can inject life into a usually lackluster time of year for your company. As the new year draws closer, more and more people slip into a buyer mentality. People who weren't potential customers suddenly become targets for you as they become infected by the country's surge in consumerism. More and more consumers wander into your target demographic during this time of year and those targets are ready to make purchases at any time, not just while shopping. Depending upon the category, many smart companies can make as much as 50% of their revenues during this period.

How do they do it? For one, it helps if your offering is in a category associated with the pre-Christmas retail glut. But, even if it's not – even if it's a pure business-to-business concern – you can ring in remarkable revenues with proactive planning including, but not limited to, these standards of holiday marketing:

Spread the wealth: Are you offering products and services for every budget? To maximize revenues, smart retailers develop gift ideas to fit diverse income levels– for example, gifts under $10, under $50 and over $200 can appeal to more buyers and increase your target audience size and your potential holiday revenue. Think about how your company can develop and take to market products or services to fit different budgets within your target market.

Wrap it up: Specially packaged holiday collections are the hot sellers during this time of year because they make buying easier for the consumer. Think about how retailers combine, for example, baskets of soaps, body lotion and bath salts in a basket with a red bow on it and up-charge for the packaging. When you make consuming easier on the consumer they'll buy more and even service-centric companies can create holiday packages as gift books or maintenance products. Discover ways for your company to pre-package multiple items in holiday collections to make it easy for your customers to buy and to give.

Get bundled: Consider offering themed combinations of items so consumers have a choice between them and single items. As illustrations, a holiday "wellness" gift package including a massage, a facial and health products or a "tax assistance" package including a book, tax software and a one-hour consultation are more attractive choices than any of the items alone. If your company can bundle complementary products and services to create a "theme" offering you'll automatically sell more product. Again, it's possible for service companies to create similarly themed packages.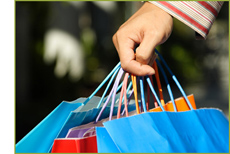 Turn up the volume: It's Christmas in America and bigger is always better… Anything that you can do to make your business the one-stop shop during the holidays and beyond gives you a competitive advantage. Consider ramping up inventory or, if you're going to start distributing a new line do it now while consumption levels are highest. Also, give customers an incentive to purchase multiple products and services. For example, give 25% off for orders over $100, 30% off for orders over $200, etc. When your business exploits inventory volume, by offering consumers choices and savings, it can easily increase sales.

The gift that keeps giving: Your business can create customer loyalty and longevity by creating a monthly club that's easy to give and great to receive and your company's options for this winning strategy are endless. Bigger players do it all the time with their "book of the month" club, "pajama of the month" club, etc. Why not "entrée of the month" club, "coupon of the month" club, or something befitting your offering? The choices are limitless and an easy way to market your offering. These programs work best when you give significant discounts in exchange for a long-term buying commitment of your products or services.

Those five marketing strategies can be implemented quickly and, most assuredly, in time for next year's holiday slow down. Announce your new combo packages, volume discount, something of the month club and more in your holiday card, newsletter or any other holiday communications to your clients and prospects. It might not fly with Emily Post but the only reason you're sending a Christmas or New Year greeting to your target audience is because of your business relationship with them. When positioned correctly your new marketing strategies become more like gifts to consumers than a crass exploitation of the holiday season.
.