It's better to give than to receive
For most small businesses, the end of the year is the right time to thank clients for their business and colleagues for their hard work with a holiday gift. A word of advice, you can never start too early when you're adamant about selecting the perfect gift for your customers, employees and vendors. We have a client that realized this and came to us in- no lie – July, to help him start brainstorming holiday gifts for his company's list of clients. He had defined criteria and we had no trouble coming up with several creative suggestions but the foliage has changed and- here in November -a selection has yet to be made.
So, start early but also make yourself adhere to a deadline. This week – the first in November – is about as long as you'll want to wait, especially if you're customizing your gifts to give them even more marketing moxie.
I'm sure you've given a gift that didn't go over so well and you've consoled yourself with the old bromide, "It's the thought that counts." If that was true we could just think a good thought for each client and be done with it. Make sure your business gift-giving is thoughtful, but also tasteful and appropriate for the receiver. Your presents reflect directly on your company's professionalism and give the recipients – your customers – a clear idea on how well you understand them. It's not only a good time to show customers that you value them but that you understand them as well.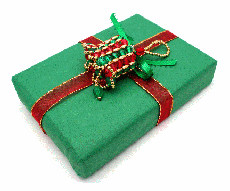 Corporate gift selection, packaging and delivery has become more of an art than a task relegated to an administrative assistant but still, some basic rules can help your company determine the best client token for every occasion:
Any day can be a holiday
Smart professionals know that gift-giving isn't limited to the holiday season. Sending small presents throughout the year is an excellent way to solidify relationships with clients and business contacts. We have a vendor who routinely bestows an excellent offering to our studio every Thanksgiving eve. It's the only gift that we receive for that holiday and it helps them to stand out among the copious contributions at Christmastime. Bypassing year-end gift-giving and marking offbeat occasions, such as Groundhog Day or Flag Day, can help your company stand out.
Politically confused?
No matter what your religion, opinion or stance on popular culture, it is still better to send a holiday gift rather than couch the presentation in your personal belief system. Client gift giving is not the proper venue for acquiring converts or ruffling feathers.
How much?
Nothing is written in stone but generally the value of your presents should reflect your relationship with your client or customer. Some companies – especially publicly held entities – place limits on the value of gifts employees can receive, so you'll want to avoid being too extravagant.
The holiday gift-giving process can become quite labor intensive if you have a long customer list and you attempt to match each individual on it to the perfect present. Sometimes we recommend selecting three different levels of gifts with three different price points and segmenting your list into three levels of customer depending upon how important they are to you and your business. Of course customers have the ability to change, grow and to become more valuable in the course of a year so don't think in terms of what they did with you throughout the past year but what potential they may have in the future.
It's not too late to start planning your perfect present and here are some ideas – from us to you – to get you started:
Food for thought- Give national contacts a taste of this region by sending local produce, beer or wine or a pie from your favorite regional bakery. Beware of perishables and alcohol transportation laws and select healthy foods over high-calorie treats.
Something extra- Add extra value to your customer care packages. For instance, send an assortment of regionally roasted coffee and add a book on the history of coffee or an elegant container to store it in. Even better, a brochure on the local roaster will promote your region and possibly create new business for that company.
Pay it forward- If you're at a loss for what to get a customer, consider a donation to a charitable organization in the person's name. Before making your donation, determine the appropriate charity by considering what's closest to the recipient's heart and what will benefit the region the most.
Wearable winners- Apparel and accessories can be fun and practical gifts, especially if they bear your own brand. Be careful not to present your customers with billboards doing little more than advertising your company . With some thought – you can promote your brand while making a classy fashion statement!
Functional favors- Customized gifts, like branded calendars or address books, may be something your clients look forward to every year. So if you hit on an idea that works one year, stick with it. If you've never tried calendars before try twelve local scenes – the covered bridges in your region, for example. Contact a local photographer for image assistance.
Remember the spirit of the season in whatever choices you make this year and you can't go wrong!.