Independent Bank Bears No Relation To Troubled Mortgage Lender
The timing couldn't be more uncanny. Virtual Farm Creative, Inc. had just signed New Century Bank to its roster of marketing and advertising clients when the troubled New Century Financial Corporation filed for high-profile bankruptcy. The challenge? New Century Financial is a large sub-prime mortgage lender based in California… and New Century Bank is a locally owned, independent community bank bearing no relation.
"People are going to confuse the two," Virtual Farm Creative Director, Todd Palmer says of the local bank with branches in Phoenixville, Wayne, Malvern, and Newtown Square. "That confusion is only natural. We'll control the damage. It's just interesting because, when we first approached New Century Bank, we were prepared to hit the ground running and now we have damage control."
So it will go for the Phoenixville, Pennsylvania-based creative agency, which officially added New Century Bank to its roster of clients in March. Known for its standout branding campaigns, Virtual Farm's original idea of strengthening the New Century Bank brand included broadcast, outdoor, print and endemic advertising efforts. Those things are still in place. But now, the effort to strengthen the brand will also mean separating one New Century from the other.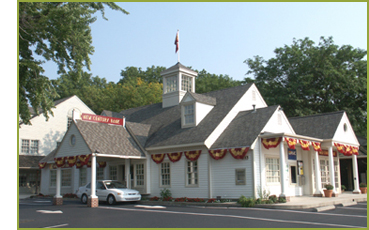 The good news is there's plenty of good news to go around. Virtual Farm will position New Century Bank as a community leader with separate campaigns promoting its philanthropy programs and small business affiliations. A third campaign will reach out to the retail market, while a major theme in the coming months will be the christening of the New Century Bank Building at the corner of Bridge and Starr Streets in Phoenixville.
"It's the kind of challenge we welcome," says Palmer. "We'd be happy to work with New Century Bank in any capacity. The news about New Century Financial just dares us to work that much harder at defining the New Century Bank brand."
.