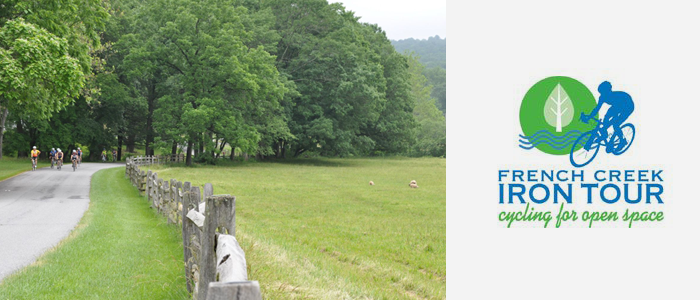 Longtime advocates of protecting the countryside in Northern Chester County, Virtual Farm Creative recently agreed to a media sponsor position for an event whose mission is to raise funds to do just that.
The French Creek Iron Tour, is an organized bicycle tour for riders of all skill levels featuring 10, 20, 34, 50, 64, 75 and 100 mile rides throughout the beautiful backroads of the region.
"We rode the 50 last year," offers VFC creative director Todd Palmer, "and it was a very enjoyable tour."
"First of all, the ride is very well organized and rest stops- of which there are four on the fifty- are fun, laid back and practically gourmet experiences," adds Palmer. "Secondly, and most importantly, all of the tours take riders past the well marked land that is forever protected as open space by the French and Pickering Creeks Conservation Trust."
Since 1967, the French and Pickering Creeks Conservation Trust has protected more than 9000 acres of open space in northern Chester County. When riders participate in the French Creek Iron Tour they have a direct positive impact on the preservation of the pristine countryside that we all enjoy.
VFC's pro bono sponsorship includes the initiation and management of social media accounts for the French Creek Iron Tour. After collecting assets and properly setting up accounts, VFC populated the Tour's profiles and set about developing content — gaining followers and engaging the online community.
"This event is really a natural for VFC's Social Media programs, "says Palmer. "Outdoor recreation with a compelling environmentalism angle is very promotable. VFC can create content that will achieve the objectives of a social campaign for this event that will support the Iron Tour's 2012 ride as well as future efforts."
"We're even considering rewarding Twitter followers on the day of the event with a social media scavenger hunt with some nice prizes."
This year registration will close at 1800 riders and VFC encourages all of our colleagues, partners, friends and family to sign up to ride on June 10. The rides start and end at the Kimberton Fairgrounds and feature commemorative t-shirts and an aprés ride lunch!
Here's how to keep up with the French Creek Iron Tour:
TWITTER @FrenchCreekTour
FACEBOOK https://www.facebook.com/irontour
REGISTER HERE!