CHESTER COUNTY ARCHITECT'S WORK SPEAKS FOR ITSELF
Phoenixville, PA— There are some businesses that define a community and some communities that define companies. Phoenixville, Pennsylvania, a town undergoing a significant and much publicized rebirth in Philadelphia's northwestern suburbs, is home to one firm that does both. The small company is helping to make the town special while gaining notoriety for their significant contribution to a regional renaissance.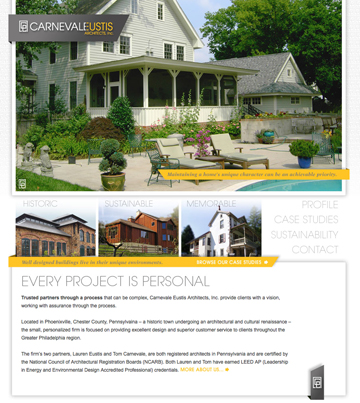 Carnevale Eustis Architects, headquartered on Phoenixville's busy Bridge Street, is the creative and
dynamic firm responsible for some of the Borough's most noticeably improved structures including the
rescued Iron Foundry, 101 Bridge, The Colonial Theatre and Molly Maguire's Irish Restaurant and Pub.
"The story was all there," says Todd Palmer. "Here you have an engaged group contributing to the success of the region but they just weren't branded well and communication to potential customers was lacking."
Palmer, 44, is the Creative Director at Virtual Farm Creative, Inc. (VFC) also of Phoenixville, Pennsylvania– the firm that was recently hired by Carnevale Eustis Architects to undertake branding enhancements, web development and other marketing efforts to more positively position the firm.
"We started with the brand," offers Palmer, "conceptualizing an image that communicates collaboration– collaboration between the firm and the building owner, between the structure and the site, between the present and a historical past."
VFC brought new brand standards to Carnevale Eustis Architects that helped defined the firm's image, from a stationery system and display advertising to site signage and a dynamic, new Internet presence.
"In the architecture category– professional services targeting property owners– the website is crucial,"
continues Palmer. "It is absolutely the first place that a majority of the target audience is going to explore prior to selecting a firm."
"VFC delivered a very effective site for us," remarks Carnevale Eustis Architects' partner, Lauren Eustis, R.A., LEED AP. "It had been some time since we had addressed our marketing needs and it is so impressive to have organized case studies, before and after photography and customized proposals right at our fingertips. VFC didn't just design a website, they have provided us with valuable tools!"
The Carnevale Eustis Architects' web site, www.cearchitects.com, showcases the firm's success stories with compelling, organized photography and features a completely customized back end content
management system. From there Carnevale Eustis Architects can add new case studies, prepare
proposals that include similar projects and allow the quality of their work to promote their brand.
Backed by years of solid agency experience, Virtual Farm Creative, Inc., specializes in executing complete branding campaigns from a 150-year-old, high-tech renovated farmhouse in the heart of Chester County, Pennsylvania. Focused on reaping results for clients, Virtual Farm's services include strategic marketing, advertising and branding featuring the development of Internet presences, multimedia presentations, sales and promotional materials, corporate identity, copy writing, original illustration, collateral and commercial photography. For more information call 877-GROW ART or visit Virtual Farm Creative, Inc. on the web at www.virtualfarm.com.
###.