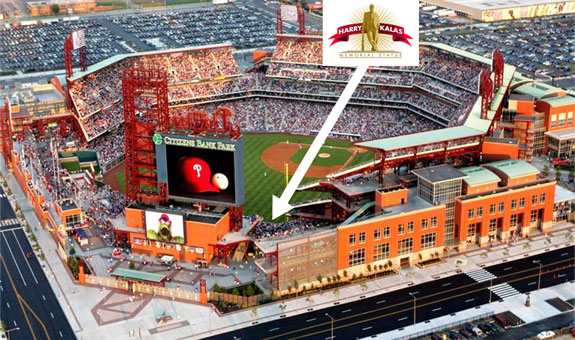 Getting fans to fund the creation of a permanent memorial to Harry Kalas, beloved, long time broadcaster of the Philadelphia Phillies was the challenge posed to VFC nearly two years ago.
In November 2009, just a few short, sad months after Harry Kalas called his last game, VFC's creative director, Todd Palmer was contacted by his good friend and college roommate, Lawrence Nowlan. Nowlan asked VFC to join him in a very special project– to forever memorialize Harry Kalas where he should be memorialized… at Citizen's Bank Park.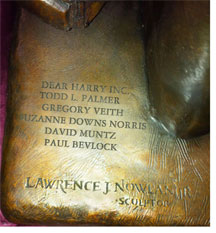 The non-profit group Dear Harry, Inc.was formed and VFC set about branding the mission and promoting the movement with the web, social media and several exciting fundraising events.
In short, VFC did whatever was necessary to make the
memorial become a reality because we believed two things:
Harry Kalas was the greatest baseball broadcaster we
had ever known and Lawrence Nowlan was the greatest sculptor we had ever known. What VFC and the Dear Harry group was attempting was unique, to be certain.
In fact, we weren't sure that anyone had ever created a memorial of this magnitude funded entirely by fan donations but we were also confident in our artist and steadfast in our belief that the city of Philadelphia required an extraordinary tribute to the voice of the Phillies for so many years.
On August 14, thanks to hundreds of individual donations from people who loved Harry Kalas,
people who spent summer after summer with Harry Kalas, people who welcomed Harry Kalas into their homes… VFC and Dear Harry, Inc. are proud to present this monument to the Philadelphia Phillies from the fans of Harry Kalas!


There's still time to get involved! VFC has refrained from soliciting our clients and friends throughout this process, instead promoting the memorial to Social Networking groups that we have developed but now is your chance to help honor Harry Kalas! Whether you're a longtime fan of the greatest baseball broadcaster of all time or a diehard fan of the Fightin's, you can still make a donation to the Harry Kalas Memorial Statue, here.
If you've already donated you'll want to come out on August 14 to witness the breathtaking results when the statue is unveiled during a pre-game ceremony during which, VFC creative director Todd Palmer will speak at Citizen's Bank Park. You can get game tickets here.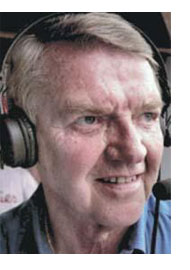 Phillies to unveil Harry Kalas statue

A statue dedicated to the memory of Philadelphia Phillies
Hall of Fame broadcaster Harry Kalas will be unveiled Aug. 14 during a special pre-game ceremony at Citizens Bank Park, the team said Thursday.
Among those participating in the unveiling ceremony for the 7-foot statue, which begins a 1:10 p.m., will be Lawrence J. Nowlan, the statue's sculptor, along Todd Palmer and
Suzanne Norris from Dear Harry Inc., the fan-based group organized solely to fund the statue.
Special guests will include members of the Kalas family as well as more than two dozen Phillies alumni. Phillies President David Montgomery will accept the statue on the team's behalf.
The statue will be located on the Main Concourse behind Section 141, near Harry the K's restaurant. Kalas, who died in 2009, was part of the Phillies' broadcast team for 38 years.