We were recently asked to contribute some content to a trade publication by one of our clients who are a regional leader in their industry. This client so appreciated one of VFC's standard offerings that he wanted us to expose its virtues so that others could benefit from setting up a similar resource.
A Little Secret
Now, we are all for helping small businesses by offering suggestions and recommendations– in fact, that is the intention of this blog. Every article identifies a problem or challenge to small business marketing and we explore the tools and processes that VFC, as a small business advertising agency, would employ to proactively address the issue.
The device in question is by no means a trade secret. In fact, there are likely hundreds of advertising agencies offering online asset management to their clients. Using online assets properly, however, requires organization and rules that differentiate this marketing device as valuable tool in your marketing success.
Common Problem
When someone requests your company's logo, is it a mad dash through multiple hard drives and compact discs to fulfill the request? Do you have to communicate with the requester several times to provide the logo in the correct format? Does your logo often look unprofessional when it is finally received and utilized by the person or group requesting it? If you answered "yes" to any of these questions you could probably benefit from developing an online asset archive.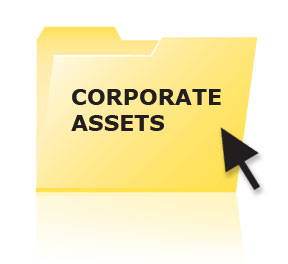 What's the Meaning of This?
Online assets are exactly what they sound like, a collection of assets that are posted on the Internet so that they're always readily available. In this case the assets are for a brand– your brand– and they can be available for any number of uses that will save you time and money.
Safety First
As with anything that represents your business, you want to protect your asset archive to some extent. Even though you're creating an online collection of all of your brand elements you do not want just anybody gaining access to it. You wouldn't, for instance, include a link to the assets in your site navigation and you might be wise to consider password protecting the online assets directory.
Once and Done
The initial task of organizing all of your company assets– whether or not you elect to place them online– is going to streamline many of your marketing efforts. As you know, the vast majority of marketing done by small businesses is quick and inexpensive where many times a logo or business card represents an advertisement. Once you have your company's corporate signatures organized locally and/or online you can maintain changes and keep your staff and all applicable vendors up to date quickly and easily. Now you can make instantly available those things that are requested most often.
Something for Everyone
Different publications, events and vendors are going to require your assets in different formats but almost none want to receive a logo in Microsoft Word, PowerPoint or Publisher. With an organized resource like online assets your company can now provide the logo, ad or photo in the exact format in which it was requested.
Within the assets folder– which can be as simple as an open, readable directory– you should organize assets by category (logos, ads, photos, forms, etc.) and then provide multiple choices for each asset based on common size, color and format requests.
The key is to provide a safe, accessible place for all of the digital assets most requested by your customers and vendors.
Going the extra Mile
Now that you've organized your company's corporate assets the next logical step is to develop a set of brand standards and to post them as the very first link in your online assets. Brand standards are a document defining your company colors, typography and logo usage so that, when someone does download a logo from the assets, they use it correctly.