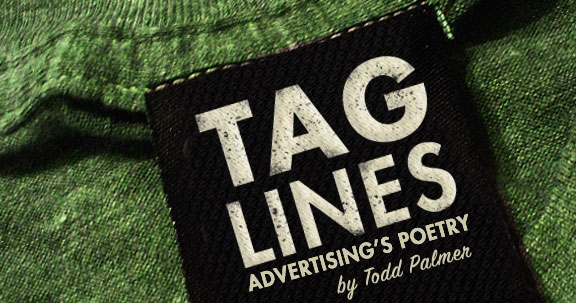 Cleverly reinforcing brand personality and position
There is something in my brain that is extremely attracted to the lowest common denominator of all possible phrases that still cleverly and creatively describes a product or a company. I love tag lines. I always have.
There are great tag lines with simple, single meanings that are memorable (The Freshmaker – Mentos; Expect more, pay less – Target) but more often, really effective tag lines have a double (A Diamond is forever – DeBeers; Have a break today – Kit Kat) or multiple (Just do it, Nike) meanings.
I have always had a few rules when developing tag lines for VFC client brands. One is to avoid the negative.
"You don't want the target audience associating your offering with anything negative even if it's juxtaposing your brand against a negative alternative," I often caution.
The United Negro College Fund's, The Mind is a Terrible Thing to Waste, is negative but it was named by Forbes Magazine as one of The 25 Best-Loved Advertising Tag Lines proving, yet again, that rules – especially rules about advertising – are made to be broken.
You will recognize many in the Forbes list but, I suspect, many are there because of the multi-million dollar campaigns that helped to ingrain them in the American cultural lexicon– not because they're especially clever or even memorable. Where's the beef, however, becomes memorable with Pavlovian precision on the hundredth impression.
Think about McDonald's and what a big deal it becomes when they change their tag line every few years. Remember when the fast food giant went from Have You Had Your Break Today? to Did Somebody Say McDonald's? in the late 1990s?
It's also interesting to note that they used a question as a tag line in successive campaign years. Perhaps posing the tag line as a question is a part of McDonald's own specific criteria…
What determines success in a tag line?
Is it increased revenue? Enhanced market share? Owning a category?
Tag lines, I contend, are unique animals in the marketing arsenal that can help with multiple marketing goals and evolve and grow with a brand. And, as we have seen with the case of McDonalds, they're the one branding component that can change completely without sacrificing awareness.
Sometimes brands launch a tag line with a real specific objective in mind.
Take Magic Marker's tag line, for instance. The pen company wanted to use the tag line as a device to separate themselves from dozens of knock off brands when they used the slightly negative, If it doesn't say Magic Marker, it isn't.
The topic of the best tag lines of all time recently came up in Linked In's Advertising Professionals Group and, much like Forbes, posters focused on the best known rather than the best.
Unless it is determined that we should attempt to use tag line development to reach a very specific goal, which has been the case from time-to-time, VFC employs a hierarchy of criteria to develop the lowest common denominator of all possible phrases that still cleverly and creatively describes a product or a company.

Entering our twelfth year of business, VFC has started providing a creative brief with nearly every conceptual project that we present to a client– including tag lines. With everyone from the local sign shop to commercial printers claiming to be creative content developers nowadays, it's important for us to demonstrate our marketable difference at every opportunity.
VFC is focused on strategy
We don't just build a website but we build a website that will achieve specific objectives and support a complete and custom campaign strategy. We bring big company thinking to small businesses and that includes the strategic development of brand tag lines developed to meet very specific objectives.
We don't just whip up some words and say, "here's your new tag line," like those newer competitors of ours might. Instead, we undertake actual competitive research, trend studies and market testing to present options within the VFC criteria that will perform for the brand.
In some cases we also named the company using the same strategy and criteria but here, in one place, are a few of Virtual Farm Creative's more memorable tag lines:
Safely Leading the World to Work – Arbill [Safety product equipment distributor]
The Last Name In Fly Fishing – Rumpf [Fly fishing equipment distributor]
When We're Done, You're Playin' – ASE [Athletic complex installer]
Home Technology Made Simple – Hoishik [Home automation supplier and installer]
Good People. Better Bankers. – New Century Bank [Regional community bank]
Your Future is Worth it – Main Line Financial Advisors [Personal financial services]
Up all night – Steel City [Local coffeehouse]
Organization Through Innovation – Storage Squared [Patented storage system]
Read It! Invent it! Change It! – APCS [Charter school group]
Your building's best friend – Budget Maintenance [Property management company]
Konell Can! – Konell Insurance [Insurance broker]
Where your pet is part of the family – Primrose Lane Farm [Doggie day care]
Accessories for the Good Life – Twisted Leaf [Retail cigar shop]
Workplace Safety Innovations – Truline [Safety product manufacturer]
In Community with Nature – TDP [Municipal landscape planner]
Call Faust First! – Faust Landscaping [Residential landscaper]
Maximizing the value of energy – Solar Utility Nexus [Solar support company]
Your tailgate recycling team – Lot Squad [Event recycling services]
Sit, Stay, Enjoy! – Lucky Lab Tavern [Canine themed restaurant]
Comprehensive Payroll Processing – Express Data Systems [Business support services]
Understanding behavior, improving profits – CoreProfit [Banking service provider]
Forging a Phenomenal Future Together! – PABA [Business affinity group]
Monstrous selection of lacrosse gear! – Laxzilla [Consumer lacrosse equipment]
Always the Right Call! – The Official's Corner [Consumer officiating equipment]
Funding for our future – OJREF [Educational foundation]
Building Beautiful Dreams – Tummillo & Sons [Custom home builder]
Welcome to ideaville– TEDxPhoenixville [Regional speaker conference]
And, let's not forget Virtual Farm Creative's own tag line which was recently changed. For the first ten years we used, Where Ideas Grow! attempting to convey that we were pure creative strategy but recently we elected to try to be more descriptive and creatively focused on exactly what VFC does for our clients… Cultivating business personalities.