Virtual Farm Creative's Corporate Identity
We'd always rather discuss our clients than ourselves but we recently received a request from an inquisitive soul roaming the Internets, to tell the story of the Virtual Farm Creative logo– how it came to be and the process behind it.
Now, we are not so vain to think that the story of the VFC logo has any particular gravitas or that the logo is even our best work. We're certain, in fact, that we've designed more effective and more famous identities for others. However, after receiving the request, it did make us sentimental as we recalled the evolution of the VFC brand and we looked back at twelve years of using it to promote similar work for a host of worthy clients.
The request for our brand's story was spurred by a VFC Facebook posting that linked to a blog entry discussing how logo designers' logos are not often representative of the quality of logos they create. Either the firm has worked so hard on developing the perfect logo for their o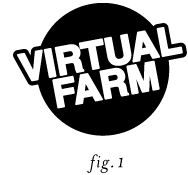 wn identity that they can not exceed it with client work or they have outgrown it and surpass it with everything else that they create. Neither scenario is good for business in the creative universe.

THE NAME GAME
Perhaps more important, or interesting, than VFC's corporate image is the name, Virtual Farm Creative, Inc.
Creative Director, Todd Palmer has always loved naming things… From kids and pets to products and companies and, over the years, has saddled hundreds with memorable monikers. When not snapping off spontaneous nicknames for friends, he's dreaming up names for colors, bands and corporations that don't even exist.
But Virtual Farm was an epiphany– there was little strategy and research behind the original creation of the name.
When the small advertising agency started it was in a renovated, high-tech barn on a small farm in Chester County, Pennsylvania. A small group of pioneers sat in front of monitors in a room where, fifty years earlier, horseradish was ground up and inserted into jars.
In 1999, Virtual Farm Creative was– quite literally– a virtual farm. That same year the firm incorporated the name and began working on developing a personality for the company.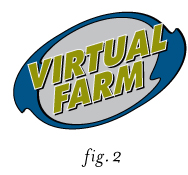 CATCH PHRASE
"I have a strong aversion to very literal marketing concepts," says Palmer whose firm has named companies like Laxzilla, Twisted Leaf, Switchback Backpacks and Commander Clean. "When someone has to figure something out they're much more likely to remember it."
"Memorable allusions to reality with double meanings are much more effective as names and Virtual Farm was just that– creative phrasing that held a lot of meaning on a lot of levels, literal and illusionary."
In the beginning, Virtual Farm was a very engaging and compelling name. It gave people pause and made them ask questions. "What's a virtual farm?" and "What do you do?" were perfect catalysts for developing new business.
"At times we all questioned whether or not the playfulness of Virtual Farm was a disadvantage," recalls Palmer. "But, with companies like Google and Yahoo making news everyday, odds were that potential clients equated Virtual Farm with an expected level of creativity."
PLOW THIS
So the firm soldiered on for a solid decade as Virtual Farm and then the popularity of Facebook, and the social interactivity it represented, spawned a phenomena Palmer still struggles to understand.

"We have had name and brand confusion in the past and it's always interesting," he offers. "Laxzilla originally received cease and desist letters from attorneys representing Godzilla and that blew our minds."
It was almost as crazy as so many Americans becoming addicted to running simulated farms with the social media game, Farmville.
The fact that the simulation game, offered on Facebook and as a stand alone application, is called Farmville and not Virtual Farm hasn't stopped the onslaught of promoters, copycats and bloggers from casually calling it Virtual Farm at every opportunity.
This has led agency to begin to refer to themselves as VFC as often as Virtual Farm but a decision to select a consistent approach in one direction or the other has not been solidified and likely won't be. In fact, that inconsistency is part of VFC's brand flexibility that is also evidenced in the advertising agency's versatile logo.
In years past we have had people call the studio to ask if they can pick their own strawberries on our 'farm'. And, as our own Facebook presence has evolved, we have become certain that a number of our fans are so because, sadly, they believe they'll receive some insight into Farmville.
Brand confusion aside, Palmer positively adds, "We can be buttoned up and serious when we pitch B2B strategy as VFC or we can go in as Virtual Farm and deliver out of the box creativity."
IMAGE CONSCIOUS
With most client identity exercises VFC undertakes a fair amount of competitive and market research, develops a strategic plan, design criteria and a creative brief that defines style, art, color and typography. The criteria dictates application standards– logos should be usable at various sizes, in various formats and in black and white or color.
"More than anything else we wanted the Virtual Farm brand to super flexible," says Palmer. "It was always our intent for it to be extremely simple, to include something special that was memorable and to be versatile enough to effectively communicate an organic design sensibility and a modern approach that exploited technology."
With the Virtual Farm logo there was the original intention of illustrating something timeless that would be effective in modern usage. The inspiration was an advertising painting on the side of a barn– big, bold, simple and very graphic.
In fact, the original logo was just a black disc (a disc that would later morph into other colors) under white Helvetica letterforms rotated like an old tobacco ad, white-washed onto the side of a ramshackle road side barn. [fig.1]
MODIFICATION
So, that logo could work in black and white and various sizes and it represented the company well– like a kind of iconic, retro stamp– and the collateral was classic and simple. It wasn't long, maybe a year, before VFC came to believe that that logo wasn't special enough to represent the work we were delivering and, while identities were being developed for clients, the VFC logo underwent it's fist metamorphosis.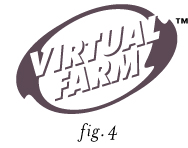 Without too severe of a departure, the disc– representative of the agency's simple farm beginnings– was replaced by an organic shape that invoked movement and creativity.
It was the early 2000s and metallic inks were very popular and other high-end print finishing techniques were trendy. VFC made changes to the logo that would allow for a three and four color treatment and the adaptation of unique presentations. [fig.2]
VFC pushed the envelope of this logo iteration's flexibility for several years, experimenting with a variety of color combinations. Metallics, Earth tones, neons, farm colors, Art Deco hues and a rural pallete all worked to help VFC establish regional brand recognition. [fig.3]
CURRENT REALITY
As much as we appreciate clever word play, VFC also values visual tricks in logos that go beyond design trends and establish companies as truly creative brands. Like the hidden arrow in the FedEx logo or the Xpedx logo that reads forwards and backwards, VFC designers attempt to add real meaning to every logo, even when it's our own.

The three color logo had become too complex, overpowering most designs in which it was incorporated, not mentioning how much more it cost to create anything that required process production.
So, in the mid 2000s, the criteria became to simplify the identity in a compelling and meaningful way. To take the identity back to the days of the black disc but to retain some of the style of the current iteration.
VFC called this iteration the window sticker because that's the first application for which it was developed and it's still named that way on our work server. All interior fills were removed and the logo, once again, became a one-color treatment allowing us to create a decal that could be used on a window for two-sided signage. [fig.4]
In essence, VFC's current logo is a see through shape that represents a continuous loop of creativity. The shape and letter forms are all one organic component, a single element that is simple, unassuming and elegant.
The negative space in VFC's current logo allows for a variety of unique and interesting applications and, so far, we've filled it with flowers, frosted it on glass, cut it out of vinyl and wrapped vines around it. [fig.5]
Around the time that the current logo came into existence, VFC started working with a Patent and Trademark Attorney, offering copyright registration services to our clients whom we had branded and/or rebranded. Subsequently, we trademarked the Virtual Farm name and logo with the United States Patent and Trademark Office (U.S.P&TO) more or less solidifying the current identity.
We can't imagine the Virtual Farm logo changing again, although the encroachment of other virtual farms as a byproduct of digital sprawl might have us rethinking that stance.
Over the years we've written about a lot of the logos we've developed for our clients but we'd never even thought about the evolution of our own identity. Thanks for asking and thanks for the opportunity!.