Welcome to the latest edition of the crop, VFC's periodic reporting on what we're doing and what we've done! We'd love to hear from you, so drop us a line and let's get creative together! Spring's right around the corner so… open up your company windows and shake the dust outta your brand!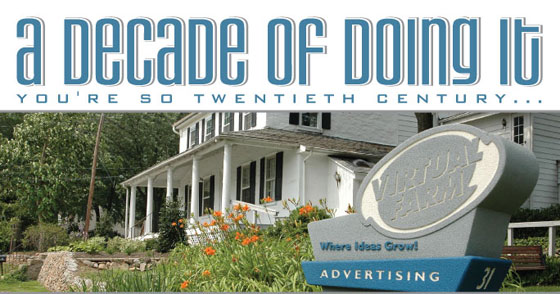 In 1999, Prince's anthem became really anticlimactic. In 1999, y2k drones were wrapping up their code, crossing their fingers and hoping for the best. In 1999, Mike Tyson went to jail, Columbine High School was attacked and SpongeBob Square Pants was born.
Things seemed pretty bleak on the cusp of a new millennium, but certain stars were aligning – making the prospect of starting a high-tech, business services company during that year not the worst idea in the world.
The dot com bubble was quickly deflating so that people who actually did the work on the Internet could be fairly rewarded. Y2K was pretty much a bust so that capital allocated at preparing for it was freed up. In January, Apple Computer released the Power Macintosh G3, followed by the Power Macintosh G4 in August, so delivering quality creative was faster than ever.
It's been a consistently steady growth since those twentieth-century days with most of the clients that VFC started with still on board – relying on the creative agency for annual marketing and advertising support to keep their own enterprises flourishing. Many new companies from Chester County, Pennsylvania to Seattle, Washington have come through the VFC doors in the past ten years to secure successful campaigns culminating in an impressive roster of satisfied clients. We certainly wouldn't be here without them believing in us.
Several key team members have been with VFC nearly as long as the company is old making, the style, the mission, the company culture and the creative offering, all a shared vision formed by consistently creative, award-winning, thoughtful and diligent copywriters, commercial artists, programmers and visionaries. Without them VFC would be as fondly remembered as the Y2K virus!
As the tenth anniversary milestone approaches on January 1, 2009, Virtual Farm Creative remains one of the most creative and productive agencies at our size without aspirations of growing beyond a size that would preclude us from working with the kinds and sizes of companies and institutions we enjoy most – companies just like yours. Everyone at VFC is committed to continuing to help new and existing small to medium-sized companies realize brand success from top to bottom for at least another ten years!

Just Launched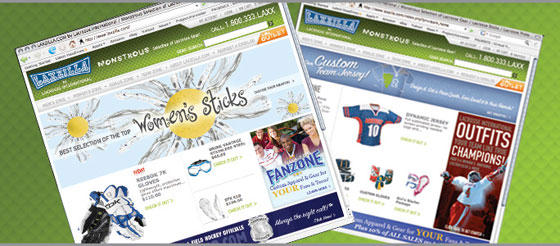 New & Improved ecommerce
In 2000, VFC branded, developed and launched a state-of-the-art ecommerce web site for Downingtown, Pennsylvania's Lacrosse International. Dubbed laxzilla.com – whose nomenclature is a story unto itself– the site featured interactive mechanisms that have been duplicated by many of their competitors since then. The Jersey Designer, the first of its kind, is now on virtually every team uniform ecommerce site on the Internet. The exclusive Face Off product comparison interface and Dream Stick lacrosse stick builder have yet to be successfully duplicated.
Even with all of those advanced features and benefits, a site can get tired after eight successful years of selling online. Cobwebs in the corners and a host of new competitors meant it was time to revitalize the lacrosse world's favorite retailer. In all honesty, the company wanted some significant back-end administrative modifications that made it the ideal time to change the look, feel and navigation of the site – improving the consumer experience.
With more brands for sale including Reebok, Adidas, Nike and Maverick the site's ecommerce features were beefed up to include rotating content, programmable banners and reorganized, dynamic navigation that will allow consumers to shop much easier at their favorite lacrosse supplier.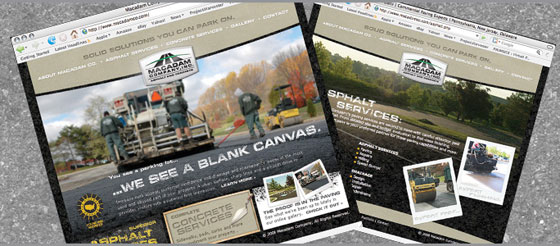 The Road to the Web is Paved With Macadam
Reinventing a lackluster website is often more challenging than developing a brand new Internet presence. The client has had their expectations aimed – at and missed – previously – and the dual charge to deliver a site that will satisfactorily impress them and achieve their online branding goals is ever present. Similarly small sites – Internet presences without a whole lot of organic content – can present a challenge to the less industrious developer.
Exton, Pennsylvania's Macadam Company, had a site that they weren't in love with, the offering was narrow and the category was competitive. The goal for Virtual Farm was to develop content that adequately represented Macadam Company's high-end offering in a sophisticated, understated and confidence-inspiring interface. After all, it's one thing for the owners to like a marketing vehicle – it's quite another for it to be effective within the target audience. We think Macadam Company's new website does both.

Brand New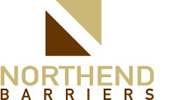 NORTHEND BARRIERS
It's a subtle illustration of a building's barrier – it's zoomed in on the detail of a capital letter N – it's a nautical flag connoting man overboard… Maybe it's all three, but the logo for the start-up Northend Barriers is also confidence-inspiring in its warm hues, solid shapes and understated letterforms. The Northend Barriers logo will be used to brand the new company which installs environmentally friendly, soy-based, insulation products for residential and commercial building owners and managers.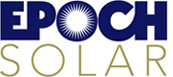 EPOCH SOLAR
Residential provider of sustainable energy solutions partnered with VFC for brand development in a market that has become highly competitive overnight. We've all seen the glut of green leaf logos cast upon the waters this year, but a blue sun and gold letter forms? This brand should help Epoch Solar get noticed in a universe of similar offerings.

BLUECOLLARWORKFORCE.COM
There are a lot of staffing agencies out there specializing in everything from I.T. professionals to nurses but bluecollarworkforce.com's niche – as evidenced by their name and brand new brand – is finely focused on commercial labor, maintenance and support personnel. At VFC we often try to position companies without being so literal, but this logo works for the recruiters, their customers and the labor they're trying to attract… plus it's fun.

Cool clients
Green, Greener, Greenest
Not so long ago VFC reported on two of our clients making regional news by showcasing their products in some impressive concept homes. Now, these were not shows, but actual new construction featuring products and services that VFC is marketing. In this issue of The CROP, we're happy to report that we have a third client participating in a consumer show – the largest in the area –The Philadelphia Home Show.
Not only, did they participate, but Pottstown, Pennsylvania's Northend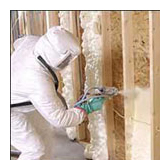 Barriers was awarded "Best Green Product" from a group of twenty-five impressive companies offering sustainable products for homeowners. Northend Barriers installs BioBased Insulation™,
a two-part spray-on insulation, sound and thermal barrier made from soy beans.
Virtual Farm Creative developed the Northend Barriers booth in record time and topped off the company's presentation by branding an interactive demonstration that compared soy-based insulation with two traditional products in real-time. For more information on Northend Barriers, or to see the demonstration for yourself, visit their website.

Employee Profile
Crystal Scattolini
Graphic Artist
Like the shiny mineral from which she received her moniker, Crystal Scattolini sparkles as Virtual Farm Creative's, Director of First Impressions. A fast learner with a quick, creative mind, Crystal is adept at layout for print and web and equally skilled at preparing three-dimensional presentations.
A 2007 graduate of Temple University's Tyler School of the Arts, Crystal commutes from Philadelphia to VFC's suburban studios bringing with her an urban sensibility and drive to learn everything that there is to know about agency life.
Favorite Sport: Softball

Favorite Food: Too many to name, because I LUV to EAT!!
Guilty Pleasure: Singing obnoxiously loud in my car, by myself or with my son.
What is the best cure for boredom?: Working out, or anything but sitting in front of the TV.
If I wasn't working at VFC, I'd be…: Spending time with my son, and/or experimenting with making jewelry.

Also a Note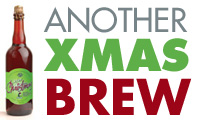 Once again, VFC has designed and coordinated production on Sly Fox Beer's annual Christmas Ale. For this third installment of what are becoming collectable labels, VFC illustrated the familiar frustration of holiday light sets entangled around the brew's brand.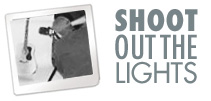 VFC Photography has been busy with the studio booked almost daily for product shots. Everything from hundreds of retail lacrosse, eye wear displays and green paper products to models and video presentations have been set up and photographed in the accommodating space.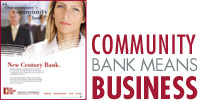 The most recent campaign designed to increase loans and deposits for client New Century Bank features business leaders
and their teams in a compelling, depth of focus display ad series promoting diversity, confidence and community spirit..