WELCOME to the latest edition of The Crop, VFC's periodic reporting on what we're doing and what we've done! First, if you'll allow us to quote one of the more underrated, seminal, psychedelic rock ensembles of the nineteen sixties, Spirit, "You know my winter's almost over, my summer, she's comin' on strong." So turn up the tunes, put down the ragtop and let's get creative!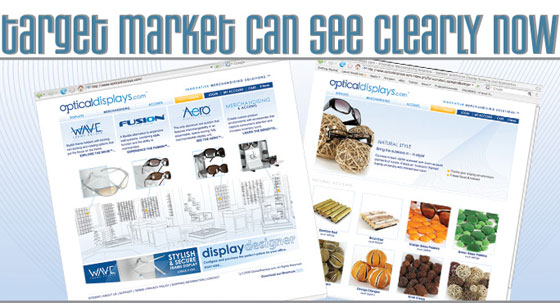 Collegeville's Eye Designs is a successful product design company that outfits high-end, custom designed interior showrooms for optometrists and retail eyewear operations on an international scale. Their proprietary systems include more patented technologies and valuable features and benefits than any of their competitors and are considered the best in the industry.
Diversifying that proprietary technology into more affordable eyewear display systems included product line naming and corporate branding, positioning and a marketing plan that featured trade show support, collateral and an interactive ecommerce Internet presence all facilitated by Virtual Farm Creative.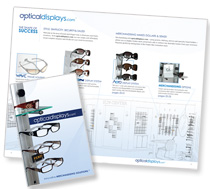 Although the initial intent of the opticaldisplays.com brochure was to drive web traffic it became an ambitious, 28-page catalog with custom studio and location photography and multiple, original illustrations. The streamlined website includes a full ecommerce front-end, an easy to manage back-end and special features like an idea gallery, multiple product views, related product suggestions and the Display Designer where potential customers can interactively build their display system and then port all components to the shopping cart.
"It's not a service that we want to promote or actively seek to sell," comments VFC Creative Director Todd Palmer, "but the entire opticaldisplays.com ecommerce web experience was built, tested and launched inside of three weeks." The site needed to be complete for a major industry trade show and VFC got it done.

Just Launched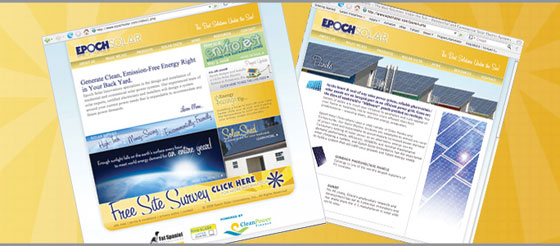 Epoch Solar Innovations
Start-up solar power designers and installers Epoch Solar Innovations came to VFC for a complete branding campaign that included an original identity in a rapidly emerging market. The campaign also included collateral and an Internet presence but the corporate brand is unique as it is one of the few new brands in this category that isn't colored green. Going against the green will help to position Pottstown, Pennsylvania's Epoch Solar Innovations.
"We wanted to convey out of the gate excellence for Epoch," said VFC creative director, Todd Palmer. "Epoch's owners are passionate about their offering and we were determined to develop a brand and marketing vehicles to support that passion."
After authoring appropriate copy, procuring photography and creating unique illustrations to tell the Epoch story, VFC developed a content-rich Internet presence to support the brand and the offering. Organized and full-featured, epochsolar.com features everything a consumer requires to make an informed decision about this alternative energy solution including solar facts, products and web-based monitoring of the solar systems that they install.

Public Relations

On April 8, 2008 ABC's Good Morning America ran a story about troubled sub-prime mortgage lender New Century Financial accompanied by a graphic featuring the logo of VFC client New Century Bank. VFC issued several immediate press releases in a successful regional damage control campaign.
March 28, 2008- Jim McKeighan's cereal spoon hung in mid air. His wife's spoon was in a similar state of suspended animation. Both of them sat motionless staring at the disquieting television screen in the quiet of their historically restored farmhouse. A rivulet of milk exited McKeighan's open mouth startling him into a frantic search for his mobile phone.
No, the couple wasn't watching one of those Japanese cartoons that are fabled to cause seizures. It was something even more incredible.
"I couldn't believe what I had just seen," recounts McKeighan, president of Phoenixville, Pennsylvania's New Century Bank. "Our community bank logo was next to the news anchor's head on ABC's Good Morning America!"
That might seem like a huge score for a community bank with five branches in southeastern Pennsylvania but that's only half of the story.
On the morning of March 27, 2008 Good Morning America was continuing coverage of the country's failing sub-prime mortgage companies. One of the largest of these lenders has been battered beyond recognition by authorizing an unmanageable volume of risky loans and filing for Chapter 11 bankruptcy. It is also being alleged by the U.S. Department of Justice that the lender's auditor either initiated accounting improprieties or stood idly by as the failed sub-prime mortgage lender committed fraud in 2005 and 2006. This was the story on Good Morning America.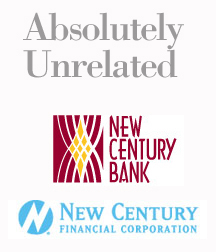 This was the story that was supported by a graphic of small community bank's logo.
New Century Financial Corporation's slow circling of the drain has been in the news for well over a year, contributing to increasing agida at privately-held New Century Bank. New Century Financial was named one of America's fastest-growing companies in 2003 and 2004, and at the height of the credit bubble it was the second-biggest lender to so-called "sub-prime" borrowers, people with poor or incomplete credit histories. Almost as soon as the larger lender's story hit the presses they were called New Century which has lead to brand confusion.
"We explain to customers or anyone who asks that the two companies have absolutely nothing to do with one another," adds Kenneth Mumma, New Century Bank, CEO and principal founder. "What causes anxiety are all of the people you don't have the opportunity to talk to."
Beyond these conversations and some moderate marketing designed to quell the confusion, New Century Bank has done little to publicly disassociate themselves from the California-based sub-prime lender that doled out $51 billion worth of loans in 2006.
"We did not want to keep calling attention to the name similarity," says McKeighan. "In this instance, though, our logo was used and it was broadcast nationally."
Breakfast interrupted, McKeighan located his cell phone and speed dialed New Century Bank's attorneys, Philadelphia's Stradley, Ronon, Stevens and Young. Attorney David Scranton sprang into action and managed to prevent the story from repeating in the midwest and western regions on the popular ABC morning program. But the damage had been done.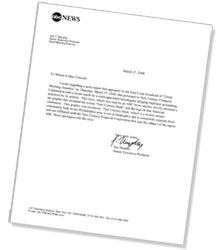 New Century Bank exclusively operates on the east coast where the story ran. In fact they principally operate in Pennsylvania so brand confusion shouldn't be an issue but it has become one. Scranton demanded an on air retraction from ABC which would air on March 28 but persuading ABC's attorneys and programmers to grant that kind of an admission is an arduous undertaking and the clock was ticking. Scranton and ABC attorneys negotiated most of the morning and, in the end, ABC admitted to the error in a formal letter.
"I'm glad that we were able to find a resolution that gives [the bank] a tool to combat the questions," concludes attorney Scranton.
New Century Bank markets itself as a community bank and is well known in the communities it serves for supporting worthwhile causes both financially and philosophically. In fact, much of the small steel town of Phoenixville, Pennsylvania is experiencing a recent economic, social and cultural renaissance thanks, in no small part, to New Century Bank.

Cool Clients

TOASTED COCONUT MEDIA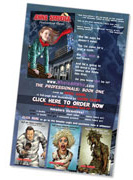 Toasted Coconut Media may not be a name you've ever heard of but, if you have children between the ages of 7 and 14 you soon will. The Manhatten-based book publisher has struck upon an original idea– combine comic book illustration styles with popular storytelling for young adults in a book series. The start-up publisher contracted VFC to undertake an ambitious email blast campaign to announce the sure-to-be-popular series "Anna Smudge" to book sellers. As a preferred vendor for Mail Chimp, VFC facilitates html email execution from list procurement to analytical tracking.

GENERAL LAFAYETTE INN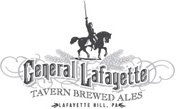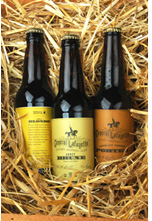 The historic tavern, General Lafayette Inn is nearly three hundred years old and throughout that time the Lafayette Hill landmark has been a popular overnight destination and eatery.
In the past few years it has become a destination for their American micro-brewed ales featuring French flair.
The "General's" beers have become so popular that owner Chris Leonard decided to bottle three of the most coveted varieties and approached VFC to execute original labels and packaging.
"We approached this project with a historical eye," said VFC Art Director, Darren Price.
"Antiqued color treatments and historical, original line illustrations and typography convey the rich history behind every General Lafayette ale."


Also of Note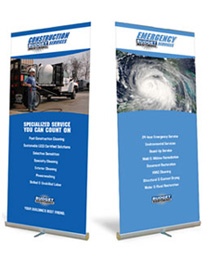 DIVISIONAL CONSISTENCY
Trade shows and expos are as effective as ever for developing new business although many attendees are scaling back on their booth presences. VFC has become expert at developing a strong presence and blasting a powerful message without breaking the bank. Alternative booth construction and reusable elements allowed VFC to position the Budget Maintenance family of companies at a series of trade shows this spring.
The company's three divisions each showcase marketing messages and capabilities while the familial design of the booth brings the entire offering into one solution provider in the consumer's mind.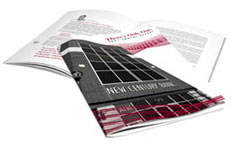 YEARLY REPORTING
Last year saw the standardization of New Century Bank's Annual Report as VFC brought consistency of style and design inline with compelling content in the form of community stories and photography based upon their popular ad campaigns. The book was a hit but in this year's economic climate it became apparent that the Annual Report should be less ostentatious. That didn't mean any less sophisticated to VFC who used compelling paper and duo tone graphic treatments to deliver another dynamite book.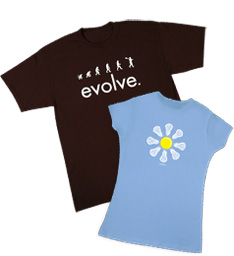 SCARY DELICIOUS
It's no secret that Virtual Farm Creative loves sports marketing and, in particular, lacrosse representing a manufacturer, a distributor, a league, a club and a tournament. You probably also know that we do a significant amount of apparel production including a lot of original design for corporate clients, events and teams.
We're always attempting to push the envelope with t-shirt design and recognized an opportunity to develop complete lines of original, lacrosse-inspired shirts for boys, monsterlacrosse.com and girls, laxlicious.com while testing out alternative ecommerce methods.



VFC TURNS TEN in 2009 and we've been participants in Pennsylvania's roadside cleanup program, Adopt-A-Highway for just as long. Several times a year the VFC staff risks getting clipped by motorists, poison ivy, thorns and countless other dangers to completely clean the well traveled stretch of Route 23 between the Seven Stars Inn and Owen J. Roberts High School.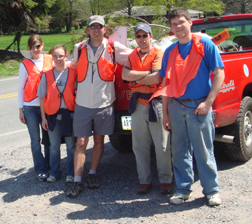 "You can learn a lot from roadside trash," ponders VFC copywriter Todd Palmer and poison ivy survivor, who is considering writing a book on litter's link to modern anthropology. "Not only can you conduct a fair amount of market research (Marlboro Cigarettes are 3 to 1 the most popular brand to litter) but you can ascertain behavior patterns and other interesting field facts." For instance, we're fairly certain that some lactose-loving commuter finishes a quart of Wawa milk at the same intersection every morning.
VFC offers a prize for the strangest object found but collectively the group continues to wonder why people can't keep it in their cars until they get to a trash receptacle. The team collected 30 full bags plus lots of car parts, real estate signs and political posters.
"PennDot supplies gloves, bags, and signs and picks up the collected trash costing Pennsylvania taxpayers a lot," adds designer Melissa Rambo. "Not littering wouldn't only improve roadside aesthetics and help environmental issues but it would probably save the state millions of dollars.".