Recently, VFC was referred by a client to help a family market and sell their luxury shore home on the bay in Avalon, New Jersey. The Realtor that they were working with was focused on promoting the home and its features but something was missing… VFC delivered a lifestyle approach and a promotion of the one-of-a-kind home as an exclusive opportunity with lifelong benefits.
Out of that direction came an exclusive brand for the home and an aggressive marketing campaign. Beautiful, representative display ads in high-end, metropolitan New York and Philadelphia specialty publications, Boyds and New York Spaces, an 8-page premium brochure directly mailed to regional millionaires and a quickly developed Internet presence that received 9000 hits in one week positioned Pelican Point positively in a very down market.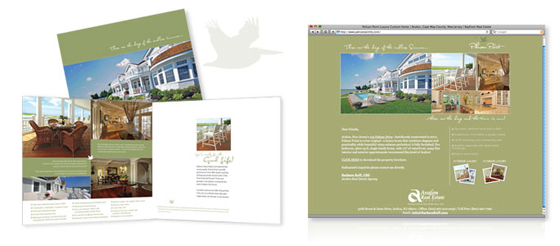 When VFC was approached to brand a new retail store- in the same category of the one that it was replacing- we started with market and competitive research and developed criteria for a compelling and unique name. Twisted Leaf Cigars was born along with a sharp, memorable identity and provided the potential to use the acronym TLC in some very sexy and creative marketing campaigns which, to date, have included apparel, web, display ads, point of purchase and sales support.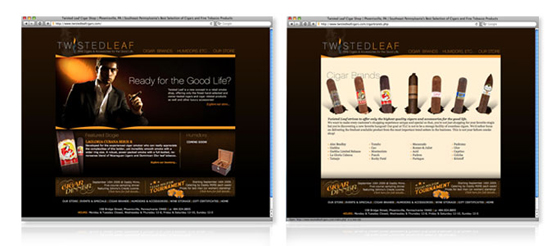 The Rivers Rockabilly Trio is a hard-working band facing some difficult choices… keep on, keepin' on with their D.I.Y. marketing and book shows as they come, or get aggressive with a branding partner and inject some professionalism into their offering. Managed by the enterprising Iron Town Productions, the trio and their management partnered with VFC who broke their offering into four distinct, but related, brand treatments. The new identities for the band and three of their specialty shows are exciting and professional and will translate into organized efforts to market to new audiences.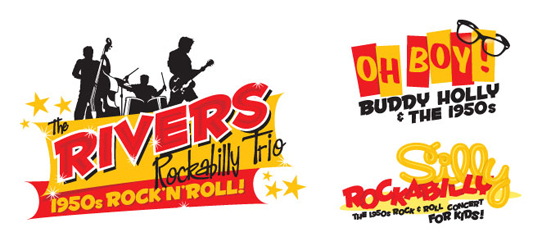 ---

Since we started representing businesses as agency of record more than ten-years ago, VFC has always made a point of being ahead of the technology curve so that we could extend that expertise to our clients. The biggest buzz right now is social networking and it's here to stay. For the right kind of company it is the perfect mix of targeted communication and qualified leads. Facebook, Twitter, MySpace, LinkedIn, Merchant Circle and other specialty social networking sites have broken new ground and made it possible for smaller companies to be very successful with targeted and viral Internet marketing campaigns.
VFC currently manages accounts on a variety of social networking sites for more than a dozen clients. This includes weekly status updates promoting offers, features, and benefits and periodic content development that is communicated to a group of users who have chosen to follow our clients. It's a captive audience and, done correctly, a business can grow this group and evangelize to them at-will while creating an attractive and compelling personality for their company's online persona.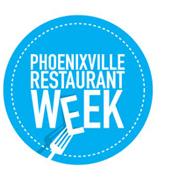 PABA, the Phoenixville Area Business Association is becoming very skilled at proactively improving the local economy. In the past few months they've organized no fewer than four marketing opportunities in which the merchants of Phoenixville, Pennsylvania can participate- all designed to increase individual member companies' business and brand awareness. This collaborative effort is very encouraging and VFC is proud to help PABA successfully promote these programs.
VFC created the brand for Restaurant Week, a first-year event which promises to be repeated annually. Between October 11 and October 15, participating restaurants will offer a special prix fixe menus. Most of the better restaurants on Phoenixville's Bridge Street- which has become known as Restaurant Row– are offering lunch and dinner specials so that more potential customers can give them a try.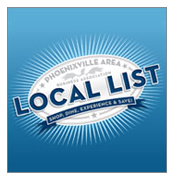 VFC was also instrumental in the development of a program with the objective of creating an interactive, ongoing event for consumers to get to know the Borough better. A small book full of offers from area merchants is purchased and customers receive a stamp whenever they fulfill an offer. When they receive enough stamps they get PABA DOLLARS spendable at any of the participating merchants. To order your own Local List click here.

To learn more about PABA and all of the great ideas they're developing to build the Phoenixville brand, check out their VFC developed website at discoverphoenixville.com. It's the largest, most complete and most up to date index of businesses and organizations in Phoenixville.