New Campaigns Equal New Business for New Century Bank
Banking is all about loan to deposit ratios and maintaining a perfect equilibrium in that equation can be as tricky as balancing a quarter on your nose and a dime on your heel at the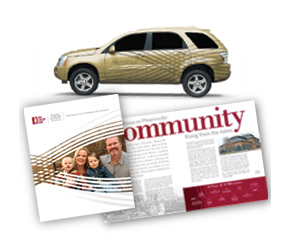 same time. Seasoned jugglers, the VFC team embraced the ever fluctuating challenge of supporting New Century Bank's mission last quarter.
"We have wanted to work with this particular bank for some time," said VFC Creative Director, Todd Palmer. "They're small enough that they offer real, measurable growth potential but large enough to effectively utilize marketing vehicles that can bring results in volume." Much of VFC's strategy for New Century Bank are new advertising and marketing vehicles for the Chester County-based bank and these efforts are impacting the bank's bottom line. "We work closely with the Bank's leaders to determine needs and objectives and work to achieve goals," adds Palmer."We're standardizing the bank's image while positioning them into targeted markets," continues Palmer. "Before they met us they we're just running display ads with no design standard in the usual suspects ñ the publications their competition ran in. We're getting good penetration into their core market with new approaches and consistent branding."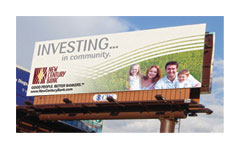 Indeed, the addition of a cable and outdoor campaigns have increased the Bank's overall presence while redesign of the annual report and sales collateral have standardized the New Century Bank's image and offering. "We're introducing a strong marketing effort without a significant advertising budget increase," offers New Century Bank President, Jim McKeighan. "Perhaps the most exciting thing VFC has brought to the table – and they have done a lot in a short amount of time – is a pinpoint marketing campaign that has allowed us to reach real specific targets."New Century Bank, with branches in Malvern, Kimberton, Wayne and Newtown Square will be opening a new branch and corporate headquarters in historic downtown Phoenixville during this tenth anniversary year. VFC plans increased promotion of the bank's offering while supporting celebration of the anniversary and new building. For more information contact Jim Mckeighan at New Century Bank,†610-933-2000.

Just Launched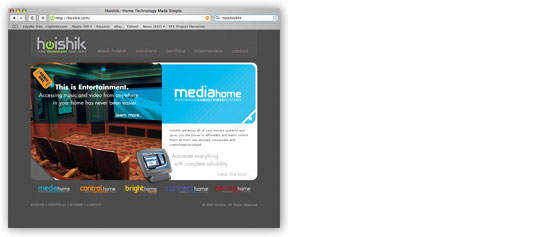 HOISHIK.COM
With the rebranding effort for this home customization company came a new name and logo that VFC is working hard to make synonymous with the offering – home automation made simple. The competitive web presence features divisional brands that clarify the offering and transitional animations that allow prospective customers to visualize the benefits of a Hoishik House!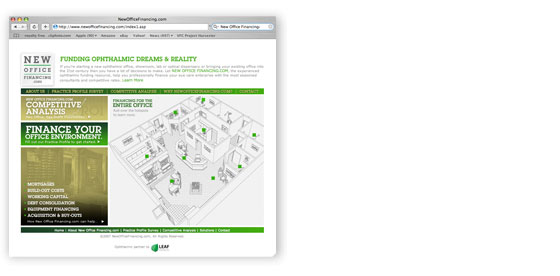 NEWOFFICEFINANCING.COM
Niche marketing on the web is complex with the addition of Search Engine Optimization and keyword campaigns. For instance, newofficefinancing.com is an online company that markets financing specifically to the ophthalmic markets – eye doctors, labs, retail eyewear. VFC employed strong copy, relevant imagery, specialized tools and organized layout techniques to convey the message to this niche group.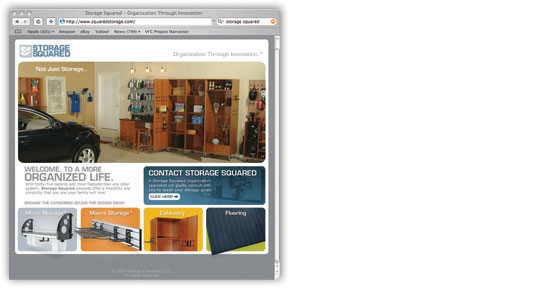 STORAGESQUARED.COM
Phase one of an aggressive new product launch of innovative home organizational systems, storagesquared.com features transitional animations that allow the retail market and potential reselling partners to grasp the unique concept of Storage Squared's large Macro-Storageô, small Micro-Storageô and cabinetry technology that can transform customers homes and their lives!

Server upgrade
VFC Makes Technology Investment in Hardware, Software & SupportVirtual Farm Creative, Inc has been a reliable web host for the past eight years, continually upgrading and enhancing our partnerships, equipment and levels of service.If your site and email has been hosted by VFC during any or all of that time, you already know that we take hosting service and support seriously.
YOUR NEW VFC HOSTED SITE SERVER SPECS: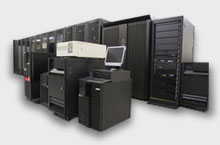 • Dual 3.0GHz Xeonô Processing
•2 GB RAM
•3 x 73 GB SCSI HD Mega 320-1 Hardware RAID 1, 5, 10 Available
• 1 TB Monthly Data Transfer
• Bi-weekly Vulnerability Scan
Here are a few of the upgrades that you can expect to see implemented by the end of July:
mailEnable PROFESSIONAL
* Enahnced Mail Services
* Server-side Anti-Spam* Faster Web Mail
* Anti-virus and Security
* Centralized Multiple Accounts
MICROSOFT SQL SERVER 2005 For your business data management needs, VFC now offers Microsoft SQL 2005. The advanced technologies in SQL Server 2005 help to reduce your total cost of ownership and drive efficiency to your organization though enterprise data management and business applications including ecommerce.
MANAGED FIREWALLS VFC
defends your site and our server with NetScreen Security Appliances firewall managed by VFC's network security experts partners. Designed to address the security requirements for businesses of all sizes, these dedicated firewall solutions will protect your site against online exploitation.
IBM TIVOLI STORAGE MANAGEMENT SOLUTION VFC's
implementation of IBM Tivoli Storage Manager's (TSM) Backup and Recovery Solution is a centralized, comprehensive enterprise level solution that makes backups and restores fast and flexible with minimal customer impact. Feel free to call me anytime to discuss the upgrade or anything else that VFC can do to help you and your business succeed. Enjoy the summer of '07! Your Friends at Virtual Farm Creative

Brand new



NEW OFFICEFINANCING.COM:
A unique partnership between ophthalmic specialists and one of the country's strongest commercial lenders allowed VFC to develop a corporate identity that was cobranded to represent both entities while conveying industry excellence. The eye chart motif has been utilized before but this new online offering required a treatment that inspired confidence and fit within the two partnering company's standards.


OPTICALDISPLAYS.COM:
Another Internet-only offering, opticaldisplays.com sells, you guessed it, displays and retail merchandising equipment for the ophthalmic industry. The logotype says it all while saying even more with the spectacle-wearing face in the first two character forms. This unique logo's font and color set a corporate standard for the newly launched company.

Capability Spotlight

BROADCAST: NEW CENTURY BANK in the Spotlight


Most people click "Get Creative" on VFC's home page and are transported to our marketing case studies and information about our core competency. If you've ever been curious enough to scroll down further on the landing page and look to the right you'll see samples of broadcast work that includes the strategy, writing, production and editing of effective live action commercials.
Most recently the VFC creative team undertook a broadcast campaign for New Century Bank. The compelling series features various bank loan officers from each of the branches enjoying life and work in the community. "This is a privately-owned, local bank that really gives back to the community," said VFC creative director Todd Palmer. "Everything we do for New Century relates back to their community involvement and we wanted the broadcast commercials to anchor that message. Not only do deposits stay local but the people aren't transplants… there's great recognition in these spots."
The commercials that have been submitted for a broadcast Davey award honoring smaller agencies (get it? Davey & Goliath) are currently running on Comcast Spotlight's Food Network, Home & Garden Network, Fox News and ESPN. There will be a total of five spots in the interrelated campaign which features vignettes of the lender's daily lives, how they interact in the community and how their community involvement – and the bank's – gives back to customers and the region.

Employee Profile

Jenny Falk
Graphic Artist
MOST EMBARRASSING MOMENT:
Way too many, I'm very good at tripping & falling.
FAVORITE SPORT:
Baseball.
FAVORITE FOOD
wings.
EVER BEEN TOLD YOU LOOK LIKE SOMEONE FAMOUS? :
My friends say Angelina Jolie.
IF I WASN'T WORKING AT VFC,I'D BE…:
Working with disabled children.
ONE PERSON DEAD OR ALIVE I'D LIKE TO MEET:
Dave Matthews or one of my ancestors.
WHAT SONG IS YOUR SONG?:
Don't Fear the Reaper – Blue Oyster Cult
WHAT'S THE BEST CURE FOR BOREDOM?
Eating or working out … I guess they balance each other out?

New accounts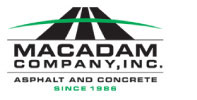 MACADAM COMPANY: One of Chester County's most together commercial offerings, Macadam Company installs large scale paving, concrete and sealing for properties in the tri-state region. The Malvern-based service company was already fairly well buttoned up when they came to VFC but we're polishing their image with apparel, trade show support, a new web site and an online custom job-tracking and estimating interface.


GEEMACHER, LLC: Just in time for the annual craft brewers conference, this start-up was launched and marketing support was rolled out. Geemacher- whose marketing plan includes identity, trade show, brochures and web – will import stainless steel kegs and other small brewery supplies. The United States is experiencing a real keg shortage as bigger breweries hoard most imports. Geemacher was formed by interested parties to level the playing field.

Also of Note

Working dairy farm rolls out hand-crafted, conservation-minded, gourmet cheese line featuring blue and alpine varieties and contracts with VFC to cleverly promote using recipes and flavorful photography!

Sly Fox's extremely popular Royal Weisse, a traditional Bavarian-style, unfiltered wheat beer was eagerly anticipated from the moment the canned beer line was introduced. Debuted this spring in spiffy new VFC designed cans and boxes, the quenching brew is just in time for the summer season!

Custom home builder Catskill Farms continues to realize success with VFC display ad, direct mail and html email campaigns that drive home brand messages of uniqueness quality and value.