Old school steel company redefines
everything about themselves



Branding
Some categories are slower than others to modernize and adopt stylized branding. For years machine shops operated with outside salesmen, business cards with raised lettering and handshake deals. In 2015, one progressive group made the decision to partner with VFC, overhaul their corporate identity and enact a system of engaging new and existing customers. The marketing plan adopted by Stainless Processing, Inc. included reinventing the company image by launching a creative new logo that told their story while modern typography underscored that this is a current and capable company.
Web Development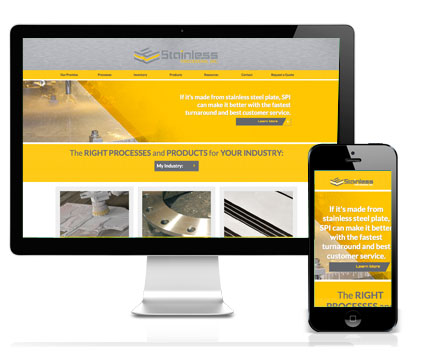 Stainless Processing, Inc. has done one thing for the last forty years and they have done it better than most… that's why they've been doing it so long. The focus on cutting precise industrial parts from giant, thick stainless steel plates had, however, kept the owner operated company from certain marketing obligations. VFC partnered with SPI to evaluate their mission and the story that they were communicating to potential customers while presenting a new approach for communication in a reinvented, reorganized website that simplified the offering to process and product and inventory. VFC positioned the offering based on inventory and created streamlined calls to action and conversion vehicles in the compelling, effective Internet presence.