Old school steel company redefines everything about themselves


Branding
An existing offering for more than forty years, Stainless Plate Products, Inc. specializes in cutting and fabricating parts from huge sheets of thick stainless steel. VFC modernized the corporate identity with streamlined typography that says "manufacturing," while developing a glyph that illustrates the relationship between customer and service, and represents the products that SPP makes from stainless steel plate. The revitalized brand informed a strategic marketing effort that included collateral redesign and a whole new interactive Internet presence.
Web Development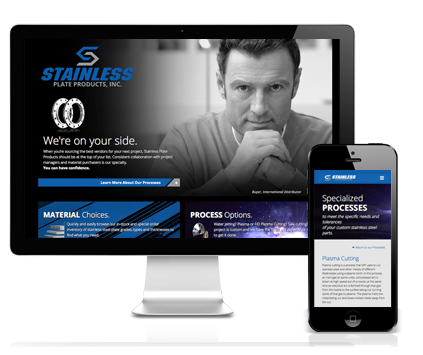 Most of the sites that VFC is developing now are responsive. Responsive websites display differently at different browser window sizes, making them adapt to devices with varying screen sizes. In Stainless Plate Product's case, there are basically three sites all programmed into one, so it will behave differently (and more optimally) on a phone screen, tablet and desktop monitor. The site also features targeted messaging and a CMS back end that allows the customer to control inventory and other dynamic information. The copy on the site has been trimmed down to impact statements that tell potential customers exactly what they need to know depending upon their need.