Schuylkill River Heritage Area Rebrand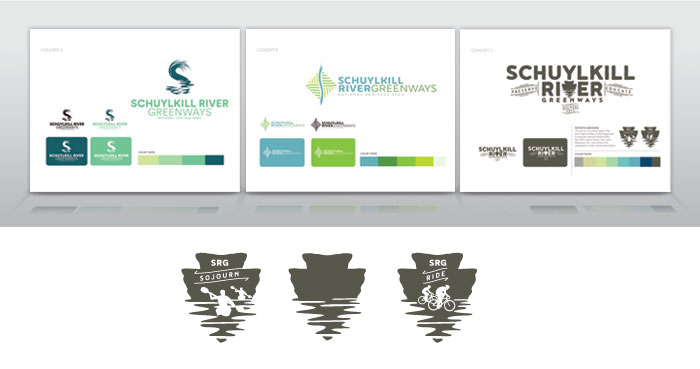 Branding
After competitive research and target analysis, VFC develops conceptual approaches that meet the brand objectives defined in a detailed strategic plan. The Schuylkill River Heritage Area rebrand included a name change and the goal of developing an identity reflective of their mission to protect and connect communities along the Schuylkill River.

Identity
The final result of the development of a strategic branding plan including definition of objectives, presentation of concepts and a lot of spirited client collaboration is a meaningful and memorable identity that represents the organization in a compelling way. Here, Schuylkill River Greenways selected very specific typography and color palette to support an original glyph that represents the river interacting with diverse communities.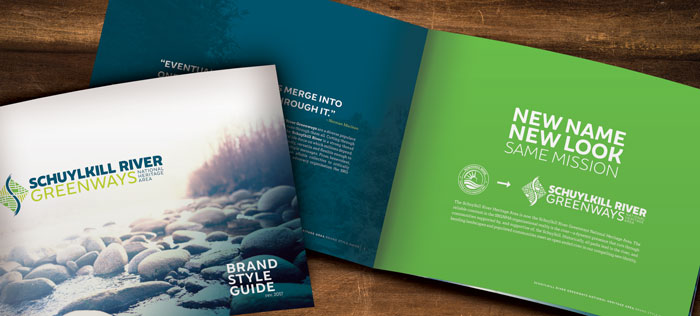 Standards
Final brand specifications are organized in a detailed style guide that ensures consistent usage across all applications and vehicles. Especially useful for a volunteer organization like Schuylkill River Greenways, defined standards help multiple ad hoc efforts all collaborate effectively and professionally.

Collateral
Designing and developing organizational collateral on the heels of a rebrand is gratifying. The client is excited and the people that they developed the branding for are about to be, so every brand touch holds the potential to advance the mission. VFC proposes unique approaches to stationery, brochures, advertising, annual reports and more to elevate the mission of the Schuylkill River Greenways National Heritage Area.