Battling math to improve reach and engagement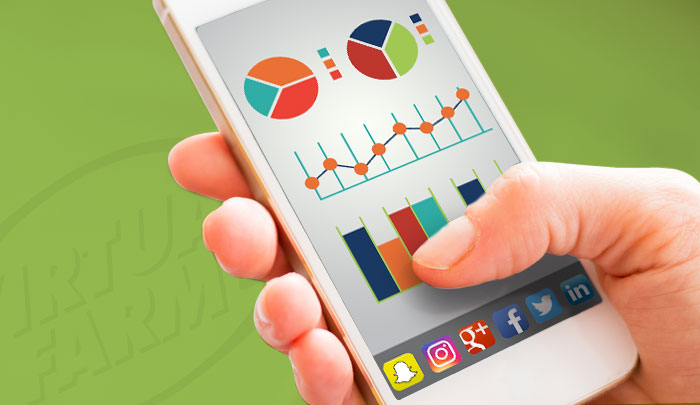 Algorithms are not a big-band-style Alice Cooper and Go-Gos mash-up cover group. If you manage a business and are even passively involved in its social media presence you've heard of algorithms, but why should you care?
Algorithms are a set of rules or processes followed in calculations by computers to achieve specific results. They are the harp strings that allow social networks like Facebook and Twitter to achieve reach, engagement and to create revenue but, unless you're a programmer or a butcher, it's almost always better not to know how the sausage is made. What you do need to know, is these harp strings are constantly being tuned and plucked, causing your brand's reach and engagement to ebb and flow.
Everyday, rather every hour, or even more frequently, Facebook, Twitter, LinkedIn, Instagram, Ello, SnapChat and Google+ are adjusting how things work on their back-end. And that can sometimes mean that yesterday's post reached 40% of your followers while today's reach 2%. But there are some things a good social media manager can do to assure you're not wasting content.
SETUP IS KEY
The environment in which your content is displayed—the setup of your social media channels—absolutely impacts the effectiveness of content. Make certain that your network presences are 100% complete, professional and competitive. You can have great post content but putting it in a poor environment can adversely effect a consumer's motivation. Make sure that all of your social media channels or pages are visually appealing, responsive, well organized, and, most importantly, relevant in the context of your target audience.
SERVE UP VALUE
If you want to engage your followers and entice them to share your posts (the whole point of social media, right?) you first have to evaluate each post to ascertain how it is useful to your target audience. There is so much useless noise throughout social media and followers are suspect of channels that are just aggregating meaningless content. They're certainly not going to share it and worse, it's not going to engage them. In almost all algorithms, the more you engage followers with valuable content, the more each will grow organically and synthetically when posts are shared.
PROMOTE SHARABILITY
When your followers share your posts, new potential targets see it. Simple enough, eh? Sharing is the key to the whole social media exercise. Your followers already know you're cool…you need them to evangelize to their friends and colleagues—building reach and expanding your market. Boom! Nothing improves sharability and confounds the ever-shifting algorithms like excellent content but, while you're busy composing editorial calendars and crafting clever posts, be sure to write copy that conforms with search engine optimization best practices, include compelling images and eye-catching headlines.
VERIFY YOUR EXISTENCE
You should continually work to verify all of your brand's social media channels. If a network gives you selections to fill in on your brand's profile, fill them in. The more complete your presences are, the more real they are in the eyes of the almighty algorithms. Facebook, for instance offers a somewhat new verification process that instantly improves how your brand's presence is viewed by the network by adding a Verified Badge to the page. VFC doesn't undertake this for our social media clients because Facebook calls their numbers directly with a verification code and, it's so easy! All you have to do is login to Facebook, navigate to the page you're verifying, scroll down the left hand sidebar and click "Verify Page." An automated call from Facebook will provide a four-digit pin that you'll enter along with your phone number. Voilá! You're Facebook verified friend!
SPEND TO MAKE
None of the social networks mentioned above is a charity expending massive amounts of resources to promote your business or organization for free. In the end, ad dollars are going to play nicest with the networks' algorithms and, generally speaking, social media advertising campaigns are very affordable and extremely effective. In fact, you can set the amount that you want to spend and create the criteria for the targets that you want to reach. Now, when you develop consistent valuable content your brand will realize rehabilitated reach, enhanced engagement and better ROI from all of that time in front of the CPU!
—
Backed by years of solid agency experience, Virtual Farm Creative, Inc., specializes in executing complete brand management campaigns that create compelling personalities for businesses and organizations. From a 150-year-old, high-tech renovated farmhouse in the heart of Chester County, Pennsylvania, VFC focuses on reaping results for a mixed roster of clients with strategic marketing that informs identity, advertising campaigns, product packaging, web development, social media, event promotion and more. For more information call 877-GROW ART or visit Virtual Farm Creative, Inc. on the web at www.virtualfarm.com.