Read you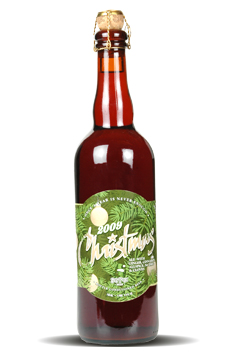 r list and check it twice, if Sly Fox Christmas Ale isn't on there, that ain't nice!
In what has become an annual tradition VFC has designed the latest label for the series of Sly Fox Brewing Company's seasonal ales. The Christmas Ale labels are different every year and have become collectors items for fans of great beer and intriguing design alike.
The recipe is similar ever year and a bottle or case will help you and yours get in the spirit of the season right quick! This malty, full-bodied red ale is made with traditional mulling spices: Ginger, Clove, All Spice, Cinnamon & Nutmeg. If this one doesn't get you into the Christmas spirit, you truly are a Scrooge.
Brian O'Reilly's unique interpretations of classic Belgian and German styles have given Sly Fox a national reputation in the world of craft brewing. And there's always something going on at the Royersford Brewery and Phoenixville Brewpub. Learn about all of our great beers and find out what's on tap at both locations.
Sly Fox has brewed more than 100 different beers since the doors first opened in Phoenixville in December 1995. Several of them are available year- round on a rotating basis at our pubs. Others are either seasonals, occasional brews or special one-time releases.
.