Traditional greetings can mean more meetings
Are you like me? Do you oscillate between thinking email is the greatest gift to mankind and the last sign of the apocalypse? Do you feel a heavy weight lifted from your shoulders when your inbox is finally empty? It seems email has become a solution and a hindrance to small business communication, making correspondence faster but less personal and requiring a customized management system to keep you sane.
One local company offers an alternative that allows businesses to touch prospects, clients, colleagues, friends and family without firing up the computer.
Gail Davis is an independent distributor for Send Out Cards, LLC a newer company using an old idea to improve networking and communications.

Literally speaking, Send Out Cards specializes in sending out cards. The company has built a sophisticated website where member companies can manage the card selection, writing and sending.
"We offer a wide variety of cards," says Davis, "and sending a personalized greeting card is a great way to stay in front of customers to let them know you're thinking of them."
These cards aren't just for birthdays and holidays but there are greetings available for any number of occasions and many cards appropriate for unexpected times just to let your potential, current or lost customers know you're thinking of them.
"Sending cards also offers great networking potential," adds Davis who is clearly passionate about cards. "In this current business climate people who receive cards appreciate the personal touch, friendships are cultivated and referrals are made."
It's not difficult to imagine that interrupting the fast-paced, high-tech, information-intense workday with a personal touch wouldn't be well received. And Send Out Cards allows your greeting to be extremely customized and personal.
"You can write the complete message, include photos, attach a business card – even write the card in your own handwriting," says Davis who consults with businesses to get them started in the program. Filling out a simple form allows Send Out Cards to create a font with your handwriting.
Sometimes more then a card is required and Send Out Cards also offers small gifts and gourmet edibles to accompany the custom greeting.
"We have out of this world brownies and cookies that really get a recipients attention," offers Davis who advocates businesses getting into the "thank you" note habit. "Sending a small treat to acknowledge thanks can work wonders."
Send Out Cards has harnessed new technology to create an alternative communication system that is personal and easy to manage. Members upload their address book to a secure website and then control who receives what cards and when.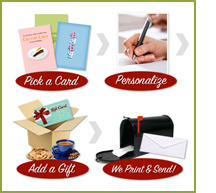 "You can send out cards and gifts here and there," continues Davis, "or create campaigns with prompts and reminders."
"The system is perfect for a lot of small businesses," says Davis whose distributorship is based in Schwenksville. "Even though Realtors have a similar system we have a lot of Realtors because of the features that Send Out Cards offers."
Adding a greeting card campaign to your customer relationship campaign might be just what your company needs to boost business. You can try to send thanks and warm fuzzy greetings with an electronic message but some days all email seems like junk.
To learn more about Gail Davis and her greeting card campaign company visit her website at webcards4you.com..