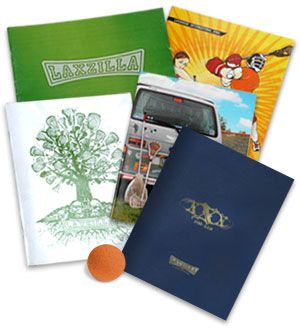 VFC recently put the finishing touches on LACROSSE INTERNATIONAL'S 2011 product catalog which will print and mail in time for holiday ordering. A lot of photography and post production was filtered into this ambitious book that is a high-style design on a fast-paced production schedule.
Every year this catalog ties up VFC resources as we wait for vendors to finish product selection and photographs and for Lacrosse International to select specific product to inventory.
"It's the nature of the beast," says VFC Creative Director, Todd Palmer. "Vendors launch new product in the fall and Lacrosse International needs to get their catalog distributed in time for holiday orders." Several action-packed weeks- and several more sleepless nights later- VFC and Lacrosse International's collaborative process yields one of the most popular and successful catalogs in the retail distribution market for the fastest growing sport in America.
At the same time VFC is preparing all new product images for porting to Lacrosse International's super popular retail ecommerce site, laxzilla.com.
This is Lacrosse International's thirty-first year in business and this year's catalog features environmental silhouetted product photography was successfully juxtaposed with interesting, complimentary backgrounds. In fact each product vignette was treated like its own content area this year where VFC exploited presentation with unique layout, color, art and type treatments.
This is the first year that Laxzilla has mad a conscious effort to not include the entire inventory but, instead, to showcase featured and new product more desirably and proactively promote the wider selection available on their VFC developed web site!.