Unique Pretzel Bakery
---


In the late 1800s, Unique first baked their now famous pretzels and, six generations later, the Reading, PA manufacturer is still going strong with a diverse product line, retail store and wide regional distribution. Unique Pretzel Bakery is the original baker of the delicious and wildly popular split-open pretzel as well as other celebrated snacks.
---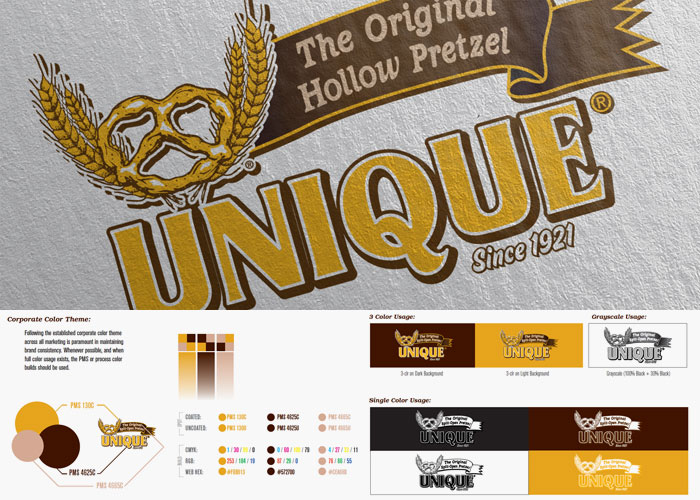 BRANDING
Utilizing a nearly sixty-year-old corporate identity, VFC developed brand standards defining corporate colors, typography and identity usage in a style guide that will inform all advertising, marketing and product packaging. Breakout support elements like a "Made in USA" pretzel icon help to position Unique Pretzel Bakery in the competitive snack food category.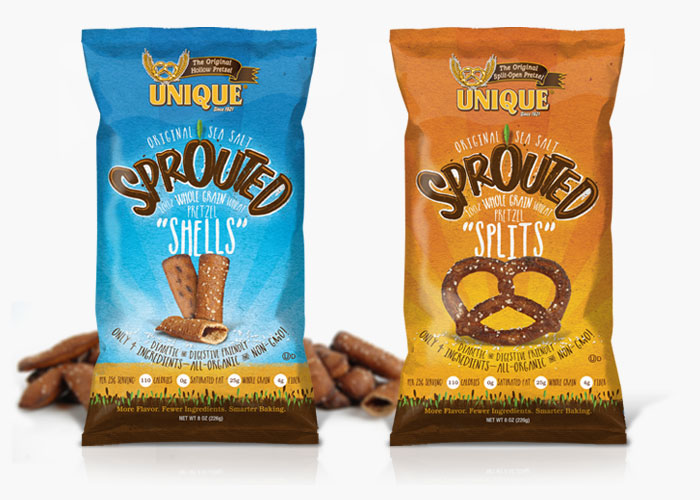 PACKAGING
Re-invigorating all of Unique Pretzel Bakery's retail packaging started with a competitive analysis and developing a compelling personality for the brand that would naturally translate into consumer attraction and motivation. VFC developed a creative guide for each product line that included unique color palettes and product brand treatments that lifted the brand up professionally and competitively, while being exciting within the category.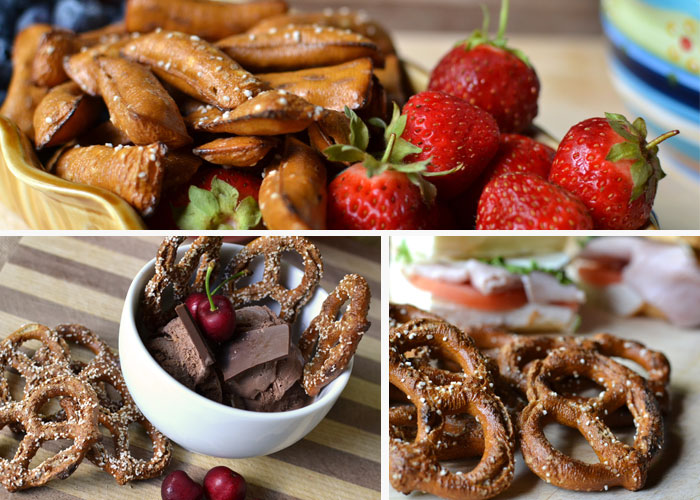 PHOTOGRAPHY
With a product line of interesting and beloved snack foods, Unique Pretzel Bakery was lacking compelling images to properly communicate the quality and positionable differences of their products. VFC planned and staged glamour photo shoots that showcased Unique's pretzel varieties in an accessible way consumers could identify with, while allowing the quality of the offering to shine thorough.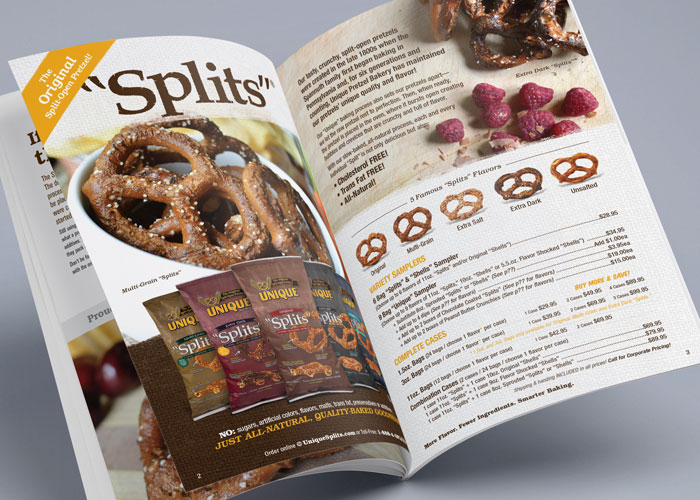 GIFTING CATALOG
An annual gifting catalog is enhanced with dynamic, engaging photography and an organized layout that improves navigation and ease of ordering for the consumer. Showcasing multiple product brands in one consumer friendly book allows Unique Pretzel Bakery to realize better retail sales while remaining focused on wholesale distribution. This annual effort features an effective layout, original copy writing, compelling photography and an overall brand presence that promotes the products for sale and the corporate culture.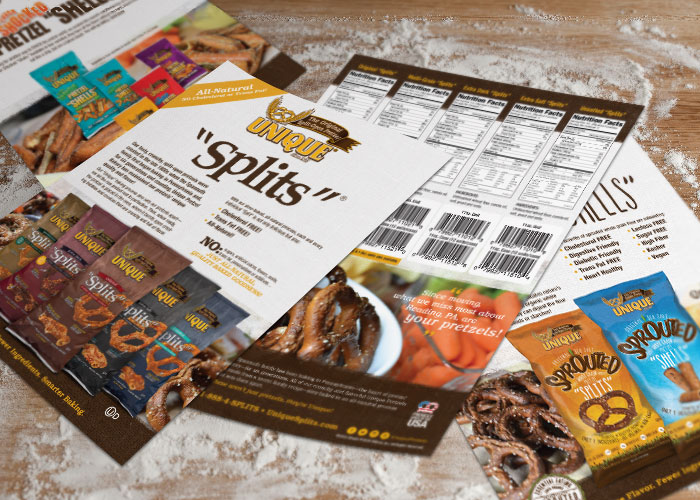 SALES COLLATERAL
Organizing the collateral from a six generation company and applying newly presented corporate standards, breathes new life into product with so much promise. Unique Pretzels are beloved in their established markets and re-energized messaging, supported by compelling imagery, is instrumental as they break into new territories.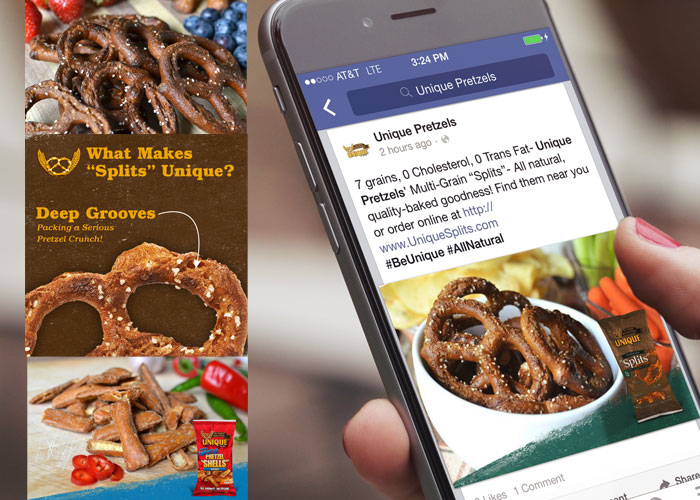 SOCIAL MEDIA CAMPAIGNS
Event support and sponsorships are the hallmarks of Unique Pretzel Bakery's social media effort, while daily communiques on Facebook, Twitter, LinkedIn and Instagram are punctuated with higher-end glamour photography of the pretzels in action. From healthy alternatives to couch potato scenarios, Unique Pretzel Bakery's posts are showcased to target different consumer sets and inspire them to take action!

SOCIAL INSIDER™
VFC offers multiple levels of social engagement support and the most robust, our Social Insider™ program, offers an integrated plan of cross-network messaging that is consistent, memorial and effective with a sustained, managed and strategic approach.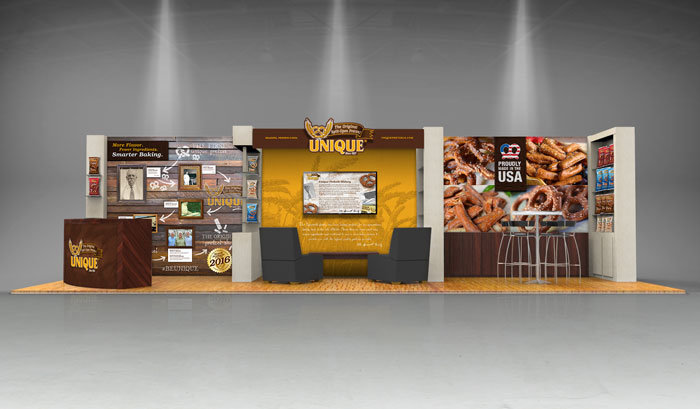 TRADE SHOW BOOTH
As the client had specific needs for a 10×10 and a 10×30 presence, VFC strategically planned a modular booth and presented options to Unique Pretzels that would allow messaging to be efficient and effective in either format. Since the client offers products in the snack food category, our concept was to build a family room—the place where most consumers are likely to enjoy delicious pretzels—and the resulting booth has a very comfortable and inviting presence. Big, bold messaging in the brand standard bookend the central module where chairs casually face a monitor that showcases motion graphics.