Nourish Mobile Market
---


Nourish Mobile Market is a start-up launched by the Good Samaritan Shelter with locations in Phoenixville and Ephrata, Pennsylvania. The goal of the mobile market is to provide economical alternatives for fresh, healthy, locally-sourced food to communities that may lack the access or resources to purchase quality food while employing the homeless men living at the Shelter. At the same time, as an actual business, Nourish Mobile pays employees higher than the minimum wage and offers them skill-building experience.
---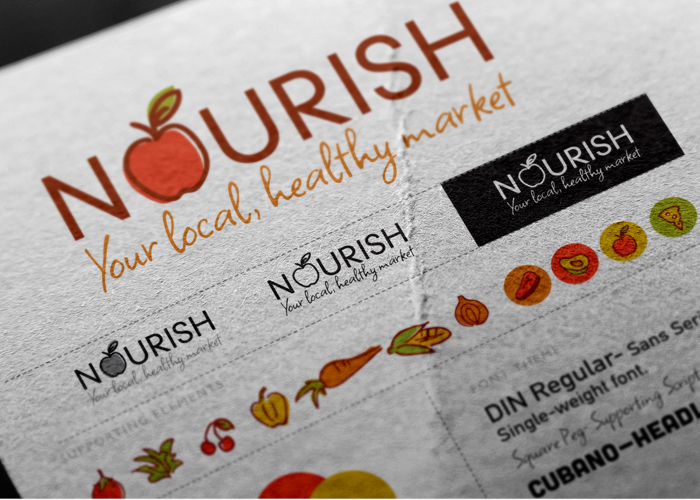 CORPORATE IDENTITY
A compelling branding effort for a mobile natural food truck featured a warm earth tone palette and original support illustrations. Modern, approachable typography is accented with friendly handwriting to present a cohesive presentation that effectively communicates the brand's mission.

EVENT SUPPORT
Customized support of Nourish Mobile Market's fundraising efforts included coordinating events with a unique, meaningful theme and custom collateral devised to communicate the mission and elicit important support.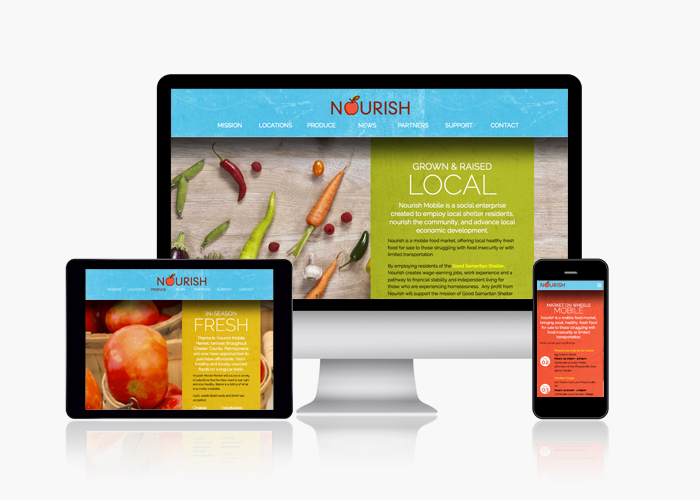 WEBSITE
A strong responsive Internet presence with flexible content management allows the client to put forth an effective brand presence while communicating necessary facts to the consumer audience. Nourish Mobile is able to change location schedules and sync marketing information quickly and easily.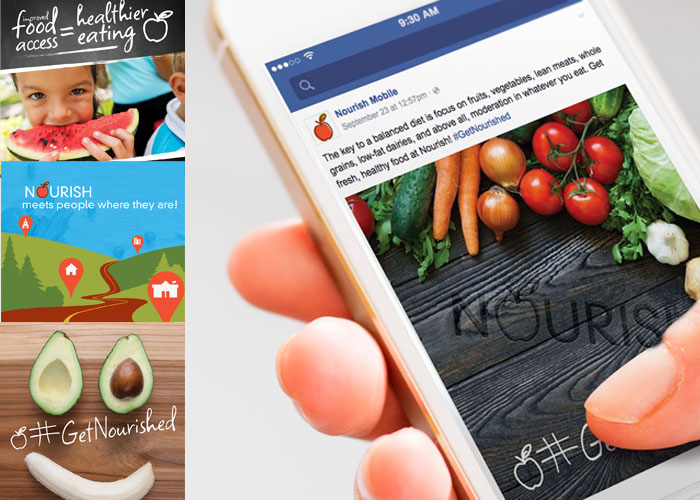 SOCIAL MEDIA
VFC translated the brand standard into fun, communicative messages that informed the Nourish Mobile brand's initial social media effort. The launch of a new brand is dependent on positive WOM marketing and the colorful, friendly campaign helped illustrate the mission and personality of Nourish Mobile.

VEHICLE GRAPHICS
A strong, noticeable brand presence is crucial to this business whose mobile market is as much store as a rolling billboard. In fact, the branded graphics on the side of the market trailer gets at least as many impressions as the brand's other marketing initiatives and it is more likely to create a conversion.

APPAREL
Support collateral like apparel and even a costumed mascot is fun and understated so it gets embraced by the demographic. People chose to wear simply designed, organic tees and use classy shopping bags and that's the objective of any premium.

COLLATERAL
Specialty campaigns allowed VFC to create a bigger buzz and a deeper personality for Nourish Mobile. In this instance we illustrated the brand using their natural products. It's just one example of creative, out of standard brand support that builds awareness, recognition and loyalty.