Mason Porter
---


There are a lot of similar bands producing music in the Americana universe today. Mason Porter is not one of them. This dynamic set of musicians comes from the Northwestern suburbs of Philadelphia, Pennsylvania but their hearts are really in the mountains. VFC first learned about Mason Porter when they headlined a Grateful Dead tribute at the Philadelphia Folk Festival and became enamored again when they were the band selected to celebrate Bob Dylan's birthday on WXPN. The band's originals are musically engaging and lyrically compelling so far beyond normal new grass standards that they've been likened to the Dead and Radiohead in the same breath. Mason Porter's latest recording is a beautiful tribute to the National Park Service, Heart of the Mountains.
---

BRANDING
Mason Porter, a regional favorite Americana band owning a packed catalog of compelling originals and an arsenal of tribute-worthy cover interpretations, was invited by the National Park Service to contribute to their Centennial Celebration. As the band never utilized an official identity, VFC took the opportunity to introduce a park-like badge for a logo that featured the ability to interchange art depending on the event, show, recording or premium that Mason Porter was promoting. After a significant amount of research and discussion, VFC developed an identity system that uses complimentary Earth tones in hues reminiscent of the NPS…respectful, unique, memorable and representative of the band and their solid sound.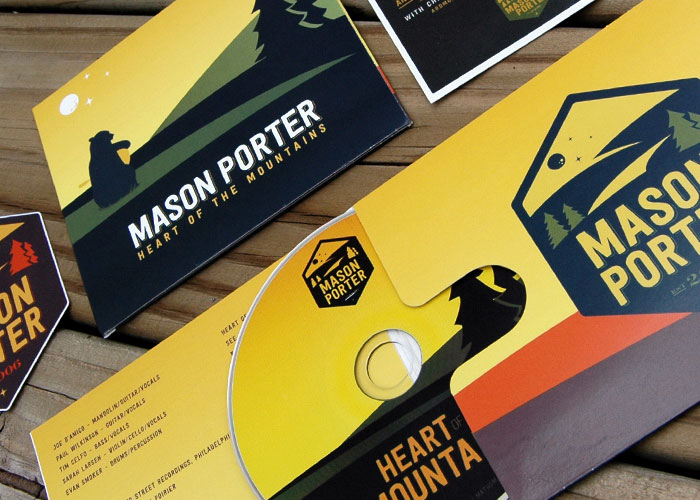 PACKAGING
Compact Discs may very well be going the way of the eight track tape, but this package was necessary as a selection for donors to the Mason Porter reward program. The simple design, featuring the newly adopted band identity, speaks to the National Park Service design sensibility and the See America project—government funded campaign to showcase the country's most stunning natural features. Our take on the poster style features a flattop picking' bear gazing on the sunset and inspiring more effective branding for Mason Porter.

PREMIUMS
Design and production of fan gear for Mason Porter's identity roll out included a collectible-worthy set of stickers and several stylized shirt designs special for project backers and fans who attend one of Mason Porters memorable concerts.

EVENT PROMOTION
VFC collaborated with Mason Porter on an identity specific for an annual festival that the band hosts and headlines. The Midnight Mountain Music Show had heretofore utilized scattershot, unorganized and uninspired marketing for a show that people really love. Introducing a style that complimented the new Mason Porter identity—but stood on it's own as an effective concert poster communicating a lot of information in a beautifully original format—VFC followed up by creating similarly branded tools for the band to promote the event online and at shows including social media graphics and playbills. Radio Promoter and manager of Mason Porter and other national touring acts, Biff Kennedy said, "There are festivals of all kinds and sizes happening every weekend and I see all of the promotions. This image rises above them all."