Manatawny Still Works
---


A start-up distiller with high ideals, Manatawny Still Works in Montgomery County, Pennsylvania has a brand new identity and a brand new operation featuring a state-of-the-art imported still and a comfortable tasting room to sample their whiskeys, rums, gins and vodkas.
---


IDENTITY
VFC presented a full naming proposal including market research and competitive analysis prior to this start-up distillery's brand launch. The Manatawny Still Works brand identity's theme is informed by the creek from which the distillery gets its name and spirit-making water. Blending distressed treatments with current typography creates a memorable brand with meaning, supported by symmetrical heads of wheat underscored with a subtle reflection of the critical water source.



SUPPORT ELEMENTS
Alternative approaches to the treatment of the corporate identity standard in alternative ways allows this client to present accessible and interesting brand touches to their audience. VFC established a small library of support elements and alternative logos in a variety of shapes that all communicate the brand story, image and mission.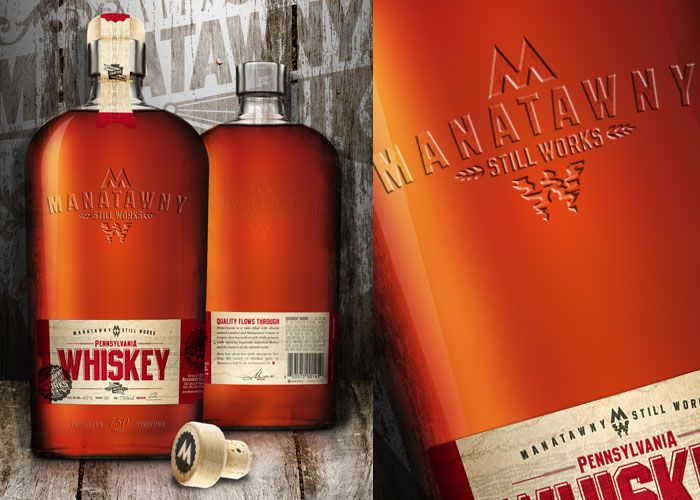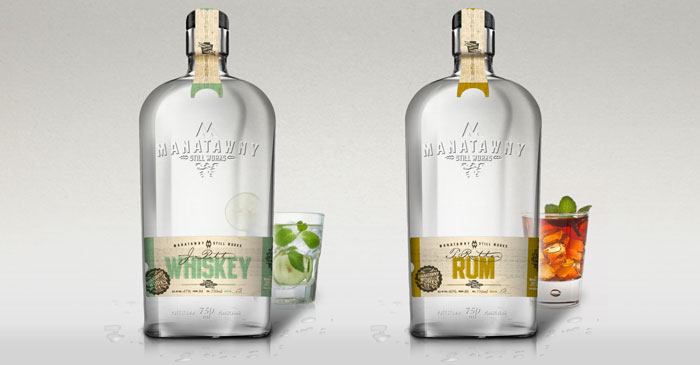 PACKAGING
From the embossed, custom designed bottle to the logo burned into the cork top, brand touches for this client's product offering are sophisticated and elegant while maintaining a cool, masculine image. Product labels adhere to a standard that creates a familial product line, while color and product branding provides unique separation and recognition in the retail environment. The pioneer spirit of the early Northeast influenced everything about this branding exercise.


APPAREL
A series of single color apparel applications allowed the company to affordably launch the brand while presenting a unique, professional and competitive image. The variety of brand images presents a qualitative perception of a creative small business that cares about quality.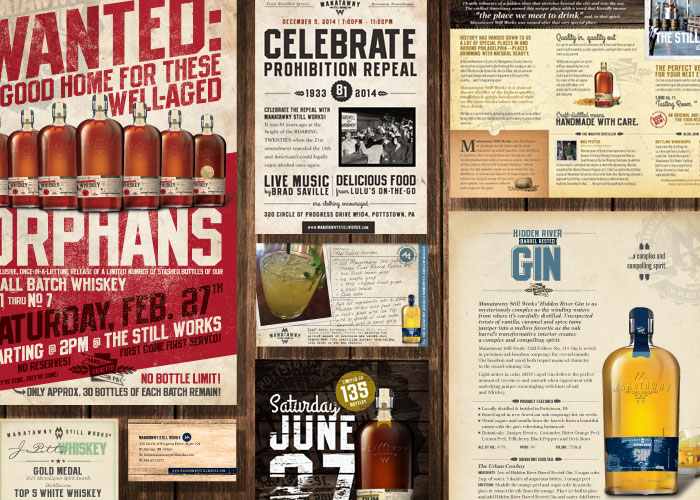 SALES & EVENT COLLATERAL
The Manatawny Still Works corporate brand standard continues to evolve to support product sales efforts with unique and exciting programs that get recognized, retained and revered. Creating a stalwart personality for the spirit-making startup is one thing, but translating that attractive style to incessant sales efforts, unique for each brand, audience and program theme, is an effort on par with brands ten times the size of Manatawny. Original content and recognizably unique design informs every ambitious campaign.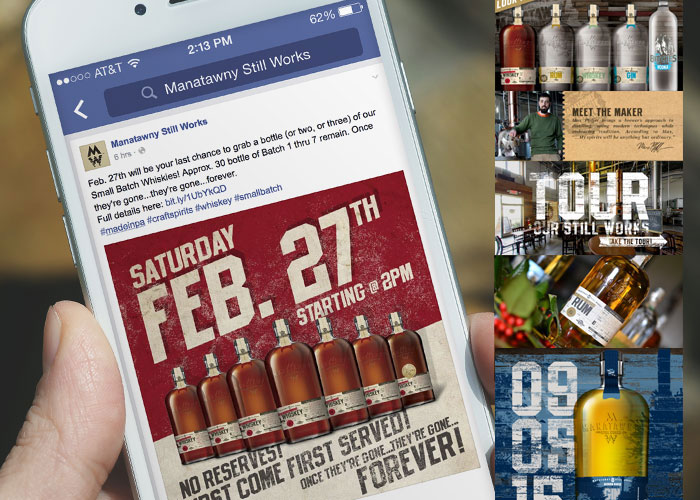 SOCIAL MEDIA CONTENT DEVELOPMENT
VFC's Social Insider™ program for Manatawny Still Works is a non-stop, full-scale collaborative creative assault on all of the social networks. Collaboratively developing meaningful messages designed to reach more potential, VFC creates posts that pop. From event and product announcements to stylized seasonal dispatches and brand personality props, this Pennsylvania distillery is always top-of-mind thanks to the VFC editorial calendar and aggressive social media management.


WEBSITE
Imparting a rich history and a rustic, time-tested personality to a brand new enterprise is always an enjoyable challenge. Writing that imparts a sense of history and longevity is supported by corroded, grunged-up images that give the site and this brand an accessible, masculine personality. Site features include a distiller's journal, sortable drink database, full e-commerce storefront and elements that effectively showcase the spirits and the destination.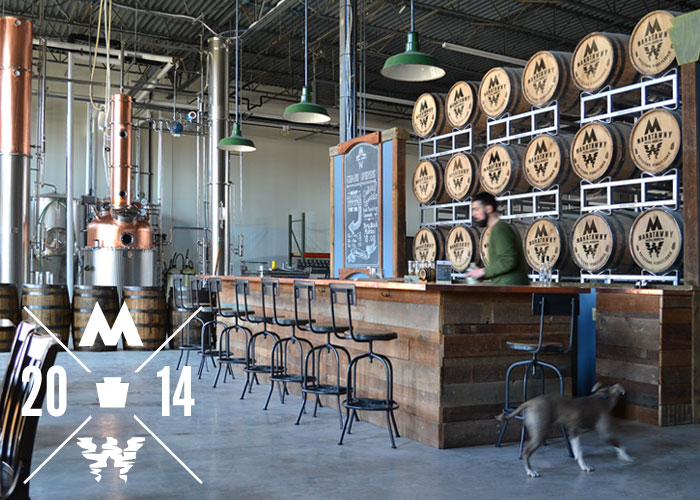 ENVIRONMENTAL
Extending the distillery theme to the exterior of a repurposed building in an industrial park was accomplished by naturally blending the brand personality with the existing architectural elements. VFC's environmental branding concepts included rustic/reclaimed wood accented by metal letterforms and oversized brand treatments creating a feeling of rural craftsmanship with industrial underscores. The entrance is accentuated with branded wood monoliths and VFC devised a system for branding aging barrels and working them into the interior design.