Hoishik
---


Solution provider to household consumers, Hoishik – Home Technology Made Simple – specializes in making products and systems work for the homeowner. More than a product distributor or installer, Hoishik provides customized whole home solutions.
---


BRANDING
VFC consulted on the name, logo, tagline and brand for Hoishik's corporate identity- which is nebulous by design. Their consumer technology offering is so new and broad that we wanted the name to define it.


FONT DESIGN & TYPOGRAPHY
Because we wanted the Hoishik brand to be so special, we developed a custom font for this client to fit stylistically with the power button glyph utilized in their logo to translate an original high-tech vibe.


COLLATERAL & PHOTOGRAPHY
Location photography was the key to communicating the type of target consumer that Hoishik's campaigns strive to identify. Additionally, the Hoishik whole-home approach meant VFC required diverse promotional images. Collateral components, including simple line cards and brochures, attempt to continually explain the depth and detail of the offering. VFC broke the Hoishik offering into defined, named and color coded, branded categories.


FLEET & PRODUCT BRANDING
Competitive research showed that Hoishik's competitors' vehicles presented a specific message as big box service additions. Hoishik simplifies the message and the process while delivering more customized solutions. The integration of branding into a service provider's work provides the consumer with a constant reminder of who Hoishik is and what they do. VFC produced custom nameplates for tech rack systems.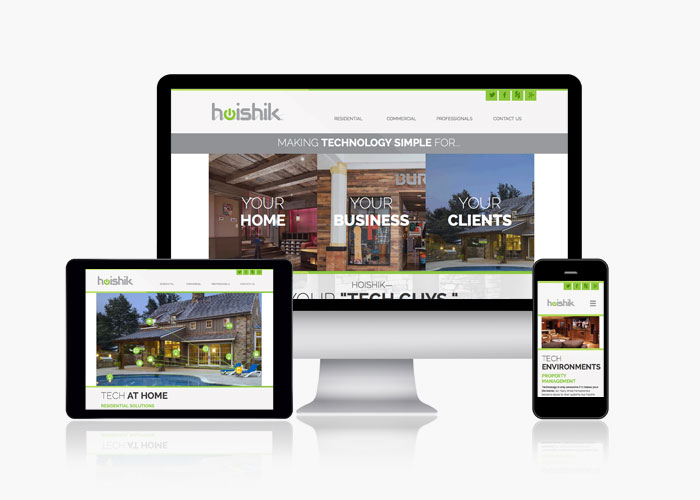 WEBSITE
VFC developed distinct categories that we integrated into a well-organized, responsive website to effectively communicate a structured offering while defining the site architecture and navigation..