Coming to Pottstown June 6-10, 2016




Short film festival program and event come together to contribute to Pottstown Pennsylvania's resurgence!
Pottstown, Pennsylvania, like a lot of towns that boomed up until a certain point in recent history, is looking to bounce back. VFC's creative director was part of a think tank that brainstormed ideas that could contribute to rebirth or, at the very least, get people excited about the town again.
Together we explored a lot of ideas and the end result was an unprecedented film festival with some rather unique criteria. Although the festival will accept films from anywhere in the world, some part of the thirty minute and under movies must relate to Pottstown, PA. It can be the setting or the subject or, more peripherally, Pottstown can be referenced in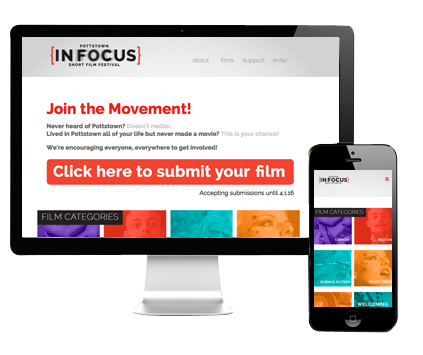 dialog, a newspaper, the hometown of a character… the criteria is fairly broad but this new brand, overseen by the Borough of Pottstown is driven to get locals and out-of-towners focused on the town and its issues. From that, they believe, will arise solutions.
VFC developed the film festival format as well as the organizational identity and informative website where volunteers and sponsors can join up and filmmakers can submit their creative efforts in one of six categories. There will be cash prizes for the top films in each category, a best of show and screenings at multiple Borough locations during a week
long event in June, 2016.