VFC TAKES THE COMPLEXITY OUT OF COMPLEX NETWORKING!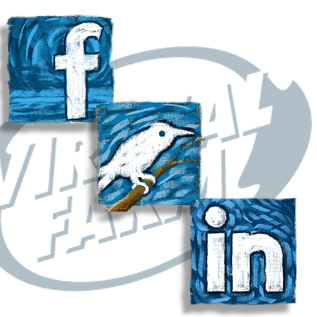 Social Media isn't just a fleeting marketing trend. There are hundreds of service companies and contractors now specializing in online marketing, search engine optimization and Social Media.
There's no doubt that social networks offer great potential for all kinds of business and should be an integral part of the marketing effort for companies like yours, but wouldn't you prefer a partner who specializes in creative branding, message and content to execute your Social Media plan? Our guess is you would and that's exactly why you're reading this.
Unlike some online marketing partners– social media specialists, Social Media is not VFC's only capability. It's not even our main focus. We are a brand management firm, promoting client offerings from top to bottom with clear, consistent image and message designed to achieve real objectives. So, when we develop a Social Media component as part of a client marketing plan it's executed a little differently.
In nearly everything that we do for our clients—all marketing—VFC attempts to deliver solutions and tools that make it easier for the client to do their jobs. We want to target specific audiences, increase awareness, enhance sales—yes—but we also want to avoid creating extra work for already overtaxed business owners.
So, when VFC delivers a Social Media solution to our clients, whether it's setting up a simple Facebook page or a complete integrated network for online communications, we make every effort to do it within a plan that helps them to more easily manage the development and delivery of valuable content.
CONTENT DEVELOPMENT
We've said for years, that every business has an interesting story to tell. They just have to find the right voice and the right audience, and that's what VFC helps clients do. Social Media allows for a different kind of story telling.
More frequent short bursts that illustrate your company brand, offering and unique information for customers—like offers and information—are broadcast to a subscription base on Twitter, Facebook and LinkedIn, while an integrated blog and notes within social networks can allow for expansion of ideas and explanation of products and services.
ALL OR NONE?
Recently a client came to VFC after attending a Social Media seminar. The seminar leader told them that LinkedIn was for business while Facebook was for personal use. They had also been given some misinformation about Twitter. With all of these tools it's all about exposure and they can all be positively exploited for business promotion.
Facebook, LinkedIn and Twitter are the market leaders and offer the best ROI (where "I" equals time) but there are literally hundreds of networks and indexes. depending upon your company's category, that can give your offering the exposure that it deserves. When you have a solidified presence on these networks there is the chance for building brand awareness and even sales conversions. The wider your net is cast the more opportunity you have to catch fish.
That's not to say that you should have a business profile and potential customer dialogs at every available social network, some are obviously not suitable for your company or its category. Also, you want to be certain that your image is strong and consistent in each profile and that you're effectively communicating and maintaining each network experience, and that can be a lot of work.
STREAMLINING NETWORKS
When VFC develops and launches a Social Media plan for our clients we don't set up a profile for the dozens of potential networks and instruct clients to maintain each. Instead we first create documentation that assists them in creating original content and we advise them on the details of posting including frequency, linking, expanded posts, images and more.
The custom documentation also includes the account information for each network, but VFC goes to great lengths to hook networks together creating less work for clients and more consistent communication. In other words, clients will create a single post that is effectively broadcast to each of their social networks. At the same time the original post is ideally archived in a home site where it can be found and referenced.
CASE STUDY
To illustrate all of the above, let's take a look at an actual VFC client, Main Line Financial Advisors. MLFA is a progressive firm offering a cadre of financial services for individuals and businesses including tax planning, wealth management and retirement planning. VFC recently launched a new Internet presence for MLFA that included an ambitious search engine positioning plan. After that, there is nothing left to do but create significant dialog opportunities between MLFA and their customers.
VFC developed an integrated blog into the MLFA site that allows for inclusion and flagging of events, white papers, news and notes. Each of these posts, which are authored by MLFA, are archived forever in an organized library within their site.
Whenever this client creates and publishes a blog entry, the modified result is automatically dispersed as their Twitter, Facebook and LinkedIn statuses. MLFA also has an extensive email newsletter campaign that, upon submission, automatically ports to the same stream.
Because VFC implemented an organized linking of all social media accounts, MLFA has increased their ability to communicate exponentially, while decreasing the resources that it takes to do so.
MANUAL DRIVE
So, there's one trade secret—it's quite possible, in fact quite easy—to link up all social media so that your company is not overwhelmed updating multiple networks. There is also a more manual way to do this using one of several tools.
PING.FM, for instance, is one of many web applications that allow you to pick and choose what networks you want to update. You simply enter your post at ping.fm and the result is automatically posted on Twitter, Facebook, LinkedIn or dozens of other potential social media networks. This free service, with customization, even allows you to choose exactly where you want the post to go, like a specific Facebook page if you manage several as VFC does.
The issue with this manual method is that your post for a blog update from ping.fm can be much longer than the 140 character Tweet. There are a lot of tricks for shortening posts as well as any long URLs that you want to include.
With some upfront planning and organization, you too can increase the quality and quantity of your corporate communications without being overwhelmed by all of the opportunity that new technology is presenting to your company..