A sculptor friend of ours is working on a larger-than-life piece honoring beloved Philadelphia Phillies broadcaster Harry Kalas to be installed somewhere in the artist's hometown of Philadelphia, Pennsylvania. A huge Phillies fan and a native son of the city of brotherly love, this is his dream project.
Sometimes work works out that way, it's more fun than it oughta be.
It was a similar situation when VFC was asked to provide marketing support for Sly Fox Brewing's Route 113 India Pale Ale in a can!
Sly Fox Brewing isn't just a Virtual Farm Creative client, they're friends and we are huge fans! We genuinely love their entire impressive lineup of beer varieties, but our hands-down favorite has gotta be the IPA! Being outdoor enthusiasts who also enjoy a tasty beverage after a mountain bike ride or during an al fresco concert, we're equally enamored with the fact that beer THIS GOOD and THIS LOCAL is available in CANS!
We have designed, produced and provided marketing support for four of these innovative aluminum containers thus far and several weeks ago the decision was made to introduce a fifth can, the brewery's flagship India Pale Ale. Now, Route 113 is a very popular ale in the Sly Fox pubs and throughout the Chester County, Pennsylvania craft brewery's distribution area, so we wanted the design to be super sick. We also knew it had to appeal to beer-drinking consumers at all levels as well as fit into the standard set for the Sly Fox family of cans.
Additionally, there was a directive to equally weight "I.P.A." and "India Pale Ale," which we believe was accomplished through multiple concepts and iterations. In fact, we custom illustrated no fewer than twelve different looks for the can but, like we said, it was a labor of love.
Named for the happy coincidence between the number of bitterness units in the original recipe and the highway the original Sly Fox Pub sits along, Route 113 IPA was and is available in 220z. "bomber" bottles. VFC and Sly Fox collaborated on the decision to depart from that bottle design to develop a compelling alternative that would compliment the beer style and that can's cool factor.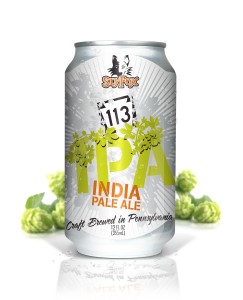 Admittedly, there were a lot of strong contenders presented but we're all stoked about the final selection which is clean and tasty just like the liquid inside. Using white as the dominate hue provides ample contrast to the other cans while the fresh palette of supporting hues are accented by flashy aluminum peeking through. We can't wait to allow one to chill our grip!
Since we all believed that the design was appropriately compelling and that the product was satisfactorily popular (it was the most requested beer to be put into cans) we decided that, although full cans wouldn't be available until the end of March, we could build some excitement by slowly leaking the news (and the design) to the fan-base.
VFC and Sly Fox consulari, Jack Curtin, utilized Facebook, Twitter and the slyfoxbeer.com news portal in a strategic effort to create excitement about the release. Every day for two weeks increasingly more revealing clues were provided about what the next can would be and what it was going to look like. The post "quality" and "interactions" were through the roof, all of  which VFC managed to pull off all while successfully administering the aggressive Social Media Campaigns of our other, equally-importnat clients.
As soon as the Federal Tax and Trade Bureau approved the design and all of the language on the can, VFC posted the final version to an anticipating audience that reverberated the discussion about this offering from individual to individual and network to network. The official post was timed to launch with simultaneous email blast, tweets and ambitious press effort.
Released the same week as Apple's iPad, Sly Fox's IPA can't hope to achieve that kind of world wide dialog but it did create a buzz. It won't be the last time!

UP NEXT: Sly Fox 113 suitcase packaging and variety packs!