When only the strong survive, get stronger with better marketing
Could there be a more appropriate metaphor for the plucky borough of Phoenixville, Pennsylvania than the Phoenix– fictional Bird of Paradise, literary device symbolizing both life and death? And, could the allegory that the fiery Phoenix implies be more timely for the businesses in that town who fully expect it to rise from the ashes in an economic rebirth?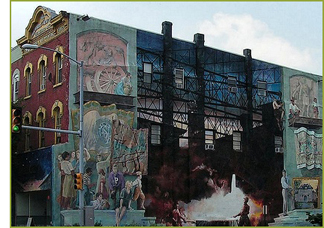 The mythical Phoenix, referenced by no less than the Greek poet Ovid, William Shakespeare and countless others throughout time, also represents fire, which was the impetus for naming the town on the river, famous for its fiery furnaces and specialized steel production. It's the story of many industrial towns centered around American manufacturing… Businesses blossomed to support a growing borough and then, as the core business declines, a shockwave reverberates outward and effects all economic contributors negatively. In times like those, only the strongest survived.
The fictional Phoenix was fortunate enough to escape subjection to Darwin's undeniable theory, but business owners must adapt. Intelligent forces are at work in the current "rebirth" of Phoenixville, strategizing to strengthen borough economy, but there are plenty of proactive steps existing businesses need to take to not only survive but succeed before, during and after the Phoenixville region's renaissance.
EMBRACE CHANGE
As a small business it's always better to adapt to appease the dynamic forces that will contribute to your success rather than to resist. The economic climate of Phoenixville's downtown area has already changed significantly and will continue to do so but, what may not be nearly as noticeable is the cultural metamorphosis that is also at work under the surface. The borough's culture shift is certain to breed a new class of consumer where improved retail selections, services and atmosphere within the reborn borough could catch some existing merchants off guard.
As the consumer culture on and around the main thoroughfare, Bridge Street, enhances, expect to be required to offer better service, consistent quality and unique offerings readily found in similar suburban revivalist communities like the previously revitalized Pennsylvania towns of New Hope, Manayunk and Downingtown. Why not slowly adapt your offering's mission to the economic and cultural changes on the way and start publicizing your own transformation in positive ways before it's too late.
EXPLOIT LONGEVITY
As the borough's business climate becomes more robust, competition will automatically increase. It will benefit those existing merchants to get a running start on increased choices in their category by taking advantage of marketing opportunities that will not exist when direct competitors move in. Phoenixville retailers have a finite amount of time to build market share and create brand loyalty with excellent offerings, superior services and strong, consistent marketing. In fact, the clock is ticking because, not only will the rising Phoenix develop more opportunities, but more opportunity will create competitors with excellent offerings, superior services and strong, consistent marketing.
Being the new kid on the block creates an automatic buzz but being there first also has its advantages. There are many ways to successfully market to develop brand loyalty now to create a base that can prepare your offering for the impending buzzing.
PARTNER SMART
All business communities have formal alliances- chambers of commerce and organized bureaus- but sometimes, informal partnerships and strategic relationships are equally effective. Strategic alliances between the current players in Phoenixville are designed to improve recognition, traffic, loyalty and, ultimately, sales and, if marketed successfully, can do just that. In fact, it is essential for all of the publicized events within the borough to have the full support of all businesses who, no doubt, can simultaneously contribute to and benefit from any programs which successfully market the borough.
The Firebird Festival, an event organized by the borough's arts and entertainment community, is an excellent annual opportunity for Phoenixville's merchants to align. Many of them do, pulling off one of the most successful cultural campaigns in the borough's recent history. There are annual events with which the community at large has affinity but new, exciting programs supported by the players that care about successfully positioning the community in creative ways will broaden Phoenixville's reach and appeal to new consumers.
MARKET SMARTER
An advertising representative acquaintance, doing some sales enterprising in the blossoming borough, recently struck up a conversation with one shop's owner. She admitted to him that business had been slow which prompted him to hit her with the pitch to advertise in his publication. "Oh, we don't advertise," she said. "We get all of our business by word of mouth."
It's an actual conversation with an actual Phoenixville merchant who, had she listened to what she was saying, might have realized that she was setting her shop up for failure. Of course she may have been taking that tact to let a seasoned salesman down easily, but historical precedent for creative marketing opportunities in stagnate business markets isn't encouraging. In fact, proven vehicles for successfully marketing in this region have been traditionally scarce.
However, as stagnation morphs into a healthy environment, opportunities to successfully market will increase. It can be undertaken slowly and economically, but consistent, frequent marketing is mandatory. Also, when traditional marketing vehicles are lackluster, consider the wide variety of alternative marketing opportunities that can support your business.
Choices for successfully and creatively marketing an existing businesses while new growth is spinning wildly all around do exist, and the key is to find out what works and stick with it. Phoenixville's new projects are generating a lot of free publicity for themselves and marketing programs that can help existing business ride the wave of the renaissance can only help. Surely the new growth that Phoenixville is experiencing will increase recognition of the borough's brand, and create better recognition for all regional businesses. Marketing to increase retention and loyalty should be common objectives for all existing businesses as the borough booms.
Like Darwin's Galapagos Islands, Phoenixville's current reality is a fragile ecosystem that, after introducing foreign stimuli is bound to change. And, like the animals of Galapagos, the legend of the Phoenix and business species everywhere, only the strong survive.
.