Retailer keeps on smilin' !
Way back in 1998, when brainstorming the online brand for a mail order company, we came up with dozens of creative options that would allow us to promote the company's ecommerce Internet presence.
The company was Lacrosse International in Downingtown, Pennsylvania, a specialty retailer for lacrosse equipment with a retail store and catalog distribution. Like most of the more common corporate monikers in the late 90s, lacrosseinternational.com had already been registered so, as we have done for dozens of other brands, we used that fact to our advantage.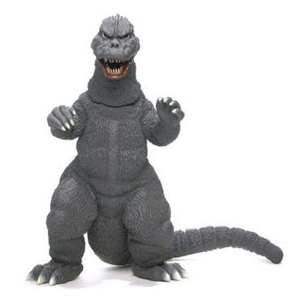 Laxzilla.com was selected from a strong group of contenders that would create a compelling brand personality to promote online sales as well as the company's successful brick and mortar and catalog offerings. So laxzilla was born, with an outrageously noticeable and memorable logo and tagline and unique online experience featuring state-of-the-art functionality and customized shopping experiences that were instantly imitated upon the launch of the site. Laxzilla.com had the total package and quickly became a profit center for Lacrosse International and a positive experience for legions of fans, but all of that activity awoke a slumbering giant…
Just days after the launch of laxzilla.com we were contacted by attorneys from Tokyo by way of Los Angeles to cease and desist with the use of the suffix "zilla" in combination with our original and unique lizard-like glyph. It seems that, although our lacrosse-playing monster was as similar to Godzilla as Sam Walton was to Abbie Hoffman, the movie monster's attorneys were undertaking an ongoing blanket campaign to own the word zilla particularly when it's paired with a lizardish monster.
Now, we have treaded carefully around copyright infringements in the past and generally undertake a measure of caution when we think we're even close to confusing the consumer but, with laxzilla, we forged ahead without a copyright search with good reason. The online world was in its adolescence and, after competitive analysis there thousands of domains that use the suffix zilla, at least half of which also use some sort of lizard slash monster as an icon. When we received the package of legal documents from the attorneys representing Godzilla, we wouldn't have been more surprised if we had seen the Pacific Rim celebrity crunching Corvettes and eating Explorers right outside VFC's studios.
After some research and a lot of options presented, the client decided that it was safer to keep the name and lose the lizard. The research revealed that most of the companies we had first discovered using the suffix zilla had received similar letters from Godzilla's mouthpieces and many were either ignoring or waiting for a bigger monster to take on the fight. More than 1,000 domains with a zilla suffix have been registered, but Mozilla, the largest and most visible brand pointed out that "fair use" is a feature of copyright law that basically allows usage if it is not a direct copyright infringement and will not create confusion among consumers.
Most of this is ancient history now and we believe that Godzilla has gone back to sleep, at least for the time being, under some Japanese volcano. Proof of this is evident in that even the Google dictionary now lists Godzilla, not as a pronoun but as a descriptive noun, as in, "Google is the Godzilla of search engines."
Now a new, equally interesting, case involving the world's largest monster is likely to have some people frowning at the nation's largest retailer…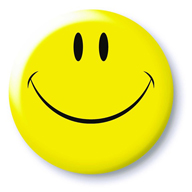 The defining symbol of the seventies, the ubiquitous yellow smiley face, is in a custody battle between Wal-Mart and a graphic artist who, among others, claims to have given birth to it. Appearing everywhere from counterculture stickers, patches and buttons and the tops of tests and homework to the more modern emoticons in emails and electronic messages, the smiley face is as common (and as trademarkable) as this exclamation point!According to the Los Angeles Times, the original concept was just for the smile created by the late Harvey Ball, a Massachusetts graphic artist who was commissioned by an insurer in 1963 to reduce bad blood among employees after the company merged with a rival. Ball said in 1997 that he added the eyes so that a disgruntled employee couldn't turn the smile upside down to make a frown. Earning slightly more than the designer of the Nike Swoosh, who- legend has it- was originally paid $35, Ball earned precisely $45 for the symbol which is now the face of a mega-corporation.
By the time Ball thought to copyright the design in the 1970s, his happy face had already been reproduced at least 50 million times, making it part of the public domain. Its invention spoofed in the movie Forest Gump, Kentucky has added smiley to its license plate, and the U.S. Postal Service issued a smiley stamp in 1999 as part of a tribute to the '70s,
Wal-Mart has invested millions of dollars through the years linking its name to the yellow circle with two dots for eyes and a cartoonish grin, but are they too late to claim ownership of a symbol that's almost as American, if not as old, as the stars and stripes?
Clearly, the public can discern between a happy hippie and a Wal-mart greeter. Just as clearly they can discern between a web browser (Mozilla), lacrosse products (Laxzilla) and a monster (Godzilla) but, one might wonder, could some branch of organized religion bring about a clever suit against Godzilla and their use of a holy prefix that can't be wholly owned by any monster or mortal?
.