MAJOLICA SETS THE TABLE FOR A NEW SEASON
Phoenixville, Pennsylvania's Bridge Street is quickly becoming known as the region's 'Restaurant Row'. The former steel town in Philadelphia's Northwest suburbs has reinvented itself as a dining destination with bright bistros from end-to-end on the historic street, but no culinary light shines as brightly as Andrew Deery's Majolica.
With an innovate Autumnal menu making its debut this month; Phoenixville's Majolica is properly prepared for the festivities of fall. Every season, in fact, the original creations of acclaimed Chef Andrew Deery continue to draw visitors to the destination eatery from throughout the Delaware Valley and beyond.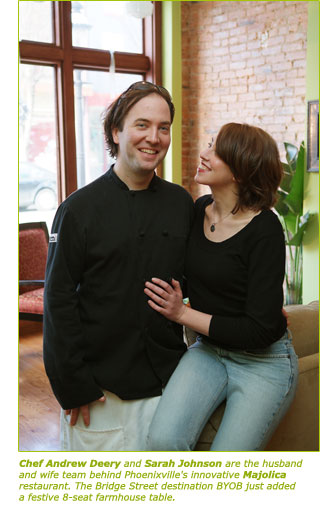 This season, however, there are several exciting new changes that are creating a buzz about the Bridge Street eatery.
Majolica, named for the colorful pottery that was part of Phoenixville's past, recently launched a brand new web site developed by the award-winning advertising agency, Virtual Farm Creative, also headquartered in Phoenixville. The stylish site features colorful representations of Deery's innovative dishes as well as all of the information potential visitors to the restaurant would ever need.
"The attitude and personality of the new website exemplifies Majolica, our atmosphere and our creative cuisine," says manager Sarah Johnson. "Things are constantly changing, improving and evolving here at Majolica and now our Internet presence has that same capability."
Majolica's vibrant site also includes an application to help the manager administer reservations. A "Call Back" form posted throughout the site allows visitors to request a reservation date and time that is followed up with a return telephone call confirming or adjusting the request. Reservation makers using the web form can even request Majolica's popular tasting menu or the Farmhouse Table.
What's the Farmhouse Table? Another sensational idea from the minds of Deery and Johnson, the Farmhouse Table is borrowed from the European tradition of eating in or near the kitchen. Majolica's Farmhouse Table is a warm antique, long enough to comfortably seat eight guests.
Positioned directly across from the kitchen, Farmhouse Table guests will enjoy prix fix offerings while delighting in watching one of the region's most inventive chef's prepare and present his creative cuisine. Even better, the Farmhouse Table allows friends to gather and experience the magic of a gregarious meal. Eclectic chairs filled with friends or family surround a table designed to make people happy.
"The right friends, the right wine, the right table can contribute to an incredibly joyful evening," agrees director of elegant eating, Sarah Johnson. "We're always experimenting with ways to combine joy and food and the Farmhouse Table is a natural extension of the Majolica offering."
To reserve the Farmhouse Table at Phoenixville's Majolica restaurant call 610-917-0962 or visit their new web site at www.majolicarestaurant.com.