2013 Xmas ale wears ugly well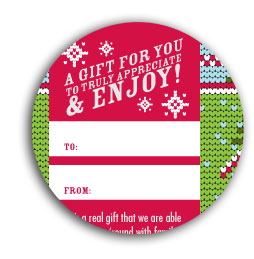 Every year VFC designs a new package for Sly Fox Brewing Company's widely anticipated Christmas Ale. The new branding gets consumers excited about the release which, although the same recipe from year to year, features subtle taste and aroma differences that connoisseurs look forward to all year long.
"This is the one seasonal release that allows us to reinvent the brand presentation," says VFC Art Director Darren Price. "Every year we start with a blank slate and brainstorm ideas that we think fans of this beer will appreciate."
Other years have included wreaths, trees and ornaments– the fox in the Sly Fox logo even dons a Santa cap– but this year we decided to get ugly… and ambitious. Modeling the packaging on an ugly sweater concept– a tradition for a lot of celebrators, VFC emulated garish cross stitching for the entire label. There's a winter scene, a sequence of little trees and snow flakes and a border that looks like something great-grandma might have knitted.
Like the previous year's design– a gift wrapped can– consumers can write on the cans in spaces provided that indicate who the beer is TO and FROM making a one-of-a-kind present that is certain to be appreciated.
In the spirit of a fun, festive holiday season, VFC always presents something unique and memorable that we think consumers will appreciate as a clever salute to Christmas. This year VFC has also incorporated an ugly sweater contest into marketing of this product's release event.