Remembering the Harry
Kalas Memorial Statue Effort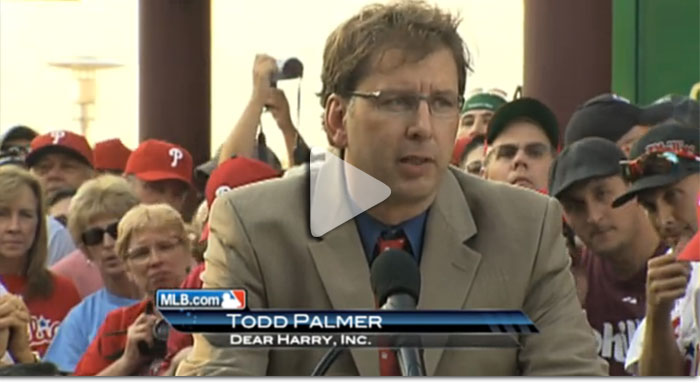 In November 2009, just a few short, sad months after Harry Kalas called his last game, VFC's creative director, Todd Palmer was contacted by his good friend and college roommate, Lawrence Nowlan. Nowlan asked VFC to join him in a very special project— to forever memorialize Harry Kalas where he should be memorialized… at Citizen's Bank Park.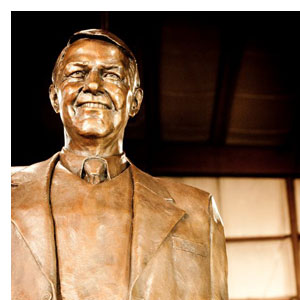 The non-profit group Dear Harry, Inc. was formed and VFC set about branding the mission and promoting the movement with the web, social media and several exciting fundraising events.
In short, VFC did whatever was necessary to make the memorial become a reality because we believed two things: Harry Kalas was the greatest baseball broadcaster we had ever known and Lawrence Nowlan was the greatest sculptor we had ever known.
What VFC and the Dear Harry group was attempting was unique, to be certain.
In fact, we weren't sure that anyone had ever created a memorial of this magnitude funded entirely by fan donations but we were also confident in our artist and steadfast in our belief that the city of Philadelphia required an extraordinary tribute to the voice of the Phillies for so many years.
On August 16, 2011, thanks to hundreds of individual donations from people who loved Harry Kalas, people who spent summer after summer with Harry Kalas, people who welcomed Harry Kalas into their homes… Virtual Farm Creative and Dear Harry, Inc. were proud to present this monument to the Philadelphia Phillies from the fans of Harry Kalas!
---
Efforts like the Harry Kalas Memorial, Pottstown In Focus Film Festival, TEDxPhoenixville, Nourish Mobile Market and many more big vision concepts – where VFC got in when they were nothing more than conversations – have taught us that ANYTHING is possible with a committed group of volunteers and effective design and communication!