Make damage control part of your core competency

In the advertising industry, if you're a photographer on location, you can expect cloud cover. If you're an account executive, you can expect the client to demand the job a day early. If you're an art director, you can expect designers to inject unwanted style on deadline. If you're a multimedia director, you can expect code conflict just before you compile an application. If you're a production manager, you can expect just about every other thing throughout your workday to go wrong…
But Murphy's Law applies to your company's industry too and every business that you may come in contact with. So many components, employees and vendors team up to bring projects to successful completion that your entire team would be wise to expect the unexpected at all times.
In fact, great service in the face of disaster often leads to referrals. You can't buy the kind of public relations that proactive damage control generates in positive word of mouth marketing.
BUILD A STRONG SAFETY NET
Damage can always be averted as soon as it's detected, and proactive organization is the best way of detecting any potential problems.
And, if organization is the insurance policy then communication is the safety net. Not only is it crucial to be completely accessible to your clients during critical jobs, but you should be in constant contact with them as well, preparing them for any eventuality. The fewer surprises you spring on clients the better off you'll both be.
Most clients appreciate knowing the continual status of a job and they feel safer every time they are informed of ongoing progress. A client can track the status of any job in our shop by clicking on milestones in our web-based proofing and review center. These are the types of features a small company can easily and economically incorporate to better control potential mishaps.
By utilizing some basic technology it's easy and economical to remain accessible to all clients at all times.
GO THE EXTRA MILE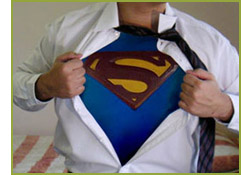 We were recently confronted with a unique challenge when a client approved a collateral package and requested delivery three days later for use in the nation's largest trade show in their industry.
Rather than making your first instinct immediate denial, consider possible solutions. We did and we found a creative answer that got the material to the client in time for the exhibition and allowed us to say that we didn't miss that original deadline.
After calling several vendors we ultimately called in a favor that made a printer get creative with their scheduling. Getting the job produced was no small feat, getting it to San Francisco from Philadelphia on a Sunday was even harder. The solution turned out to be our Creative Director substituting his luggage for the boxes of brochures on a 6am flight to Frisco where he personally delivered the materials to the marketing director in the lobby of her hotel.
The CEO of the company was heard to say, "We need more vendors like them." But impressing the client wasn't the goal… Controlling the damage was. We met their deadline and kept our reputation for developing service solutions that are as dynamic and inspiring as our creative.
Of course you don't want to have to jet to Cali every time a client flinches, and you shouldn't have to by staying organized and accessible. You're probably thinking that solution was much too costly for a small agency to undertake. It was actually less expensive than same day delivery across the country, and it underscored the type of personal service we're willing to deliver to all of our clients. It was an investment.
Before he caught the red-eye back home, our CD managed to make several promising new business contacts on the left coast. When they heard why he was there, the prospects were more than intrigued, proving that excellent service really is excellent marketing.
—————————————–
©2007
Todd Palmer and Virtual Farm Creative, Inc.
ALL RIGHTS RESERVED.
—————————————–.