Virtual Farm Creative BUILDS ONLINE BUSINESS COMMUNITY
REGIONAL BUSINESSES REJOICE with new INTERNET PRESENCE
The Borough of Phoenixville, Pennsylvania is enjoying a renaissance thanks, in no small part to the efforts of a loose affiliation of merchants and business owners. The history of the Phoenixville Area Business Association or PABA is sketchy but what is known is that several years ago, when the old steel town was at its economic worst, a group of owners got together to control their own destiny and to attempt to improve the destiny of the Borough.
That original effort faded away until Ellie Acampora, owner of Ellie's Choice, resurrected PABA. For the last five years Acampora and a growing collection of concerned business owners have promoted programs and events designed to improve the downtown business district.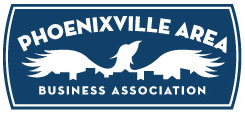 Elections were held in September for new PABA leadership and, at that time, some other organizational initiatives were decided upon. Among them were exciting new events, a compelling new membership campaign and the development of a useful Internet presence.
"We were hired to make the PABA website a useful tool for the organization," reflects Todd Palmer, creative director at Virtual Farm Creative, Inc. (VFC). The Phoenixville-based advertising agency was selected to rebuild PABA's website as the association reorganized. "While developing the PABA site VFC identified the opportunity to create a resource for visitors to Phoenixville whether online or on Bridge Street."
DISCOVERPHOENIXVILLE.COM profiles the categories of businesses that call Phoenixville home by showcasing different businesses with each visit. PABA members receive a full profile page with a link to their site in a compelling interface.
"We were determined to make DISCOVERPHOENIXVILLE.COM the definitive resource for all Phoenixville entities while supplying current event information and positive news about the organization and its member-businesses within a robust database," adds Palmer. "The custom database and administrative interface behind DISCOVERPHOENIXVILLE.COM will allow it to naturally grow as the Borough evolves."
Visit DISCOVERPHOENIXVILLE.COM today and, if you own a business in the Phoenixville area please consider joining PABA… you can do it all online!
Backed by years of solid agency experience, Virtual Farm Creative, Inc., specializes in executing complete branding campaigns from a 150-year-old, high-tech renovated farmhouse in the heart of Chester County, Pennsylvania. Focused on reaping results for clients, Virtual Farm's services include strategic marketing, advertising and branding featuring, the development of Internet presences, multimedia presentations, sales and promotional materials, corporate identity, original illustration, collateral and commercial photography. For more information call 877-GROW ART or visit Virtual Farm Creative on the web at www.virtualfarm.com.
.