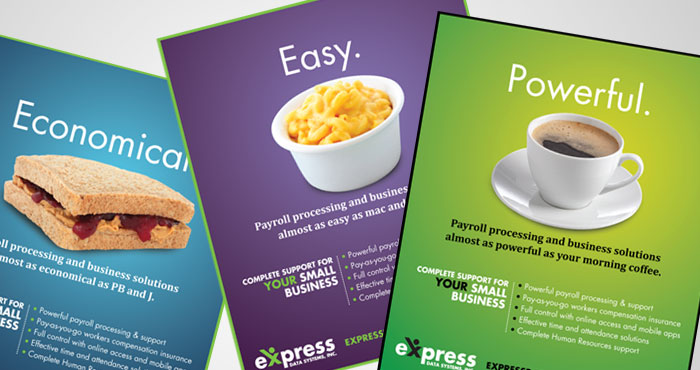 Simplifying the Message
Smaller businesses require smaller concepts
Although we admire powerful advertising in all of its incarnations, VFC realized more than 15 years ago, that we're not developing super bowl ads for our roster of clients. Mostly B to B clients with a defined geographic universe, VFC clients' potential customers have a narrow bandwidth and effective messaging is a clever combination of an eye catching hook and a quick explanation of value and benefit. The spaces our clients search for new business are full of unprofessional, complex competitive squawking and we continually get them noticed with clever, original approaches that rise above the mass of static.
Express Data Services, Inc, a payroll processing company with a complex array of services, and a name that does the offering no favors, can get recognized, remembered and recalled with creative campaigns that target associates with simple solutions. Their services are economical, powerful and easy for their customers to implement so why not showcase those benefits in simple ways the target audience can understand.
Like every VFC campaign, this series of arresting display advertisements was strategically planned in a creative brief that analyzed the market and competitive universe. Morphing through several iterations to present the perfect combination of language, visual and offering detail, these fractional ads pop out beyond the competition and simply communicate the offering's intended message.