VFC has had the Steel City Coffeehouse– a venerable java shop and music venue in Phoenixville, Pennsylvania– as a client through three successive owners since 1999. With each change of ownership came a renewed spirit and a lot of creative ideas but the current vanguard, father and son team Glenn and Eli Wenger, have really raised the bar for Phoenixville's best known business.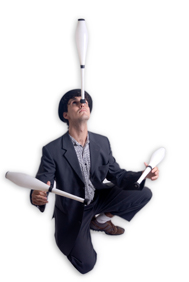 With a grand reopening that was free to vendors, family, friends and other Borough business owners, Steel City featured Hoots and Hellmouth in April. Prior to that the new ownership started booking bigger name acts (Chris Smither, Steve Forbert, Michelle Shocked) at least once a month while retooling the stage, sound system and menu among other things– like a brand relaunch facilitated by VFC.
The finest coffeehouse in the galaxy now has a galactic identity, directed by the client, that brings a unified personality to all of the new promotions and programs that Steel City is undertaking to renew perceptions about the venue previously known mostly for booking folk music acts. Among the exciting programs conjured up by the Wengers, the improved open mic night has been called "one of the best" in the region! Now they're rolling out something completely different… sort of.
It's been done nationally… even internationally, but never locally. In twelve years of partnering with Steel City Coffeehouse, VFC has been in the audience for a lot of amazing musical performances but never an all out, anything goes talent show like you might see on network television.
Today Steel City Coffeehouse announced upcoming dates for a variety show that they're calling PHOENIXVILLE'S GOT TALENT! With talent showcases each Tuesday throughout the month of July, the Coffeehouse will award cash prizes to the most talented performers.
All talents, all ages and all kinds of fun will go down on the Steel City stage throughout the month of July and they're currently booking talent and selling tickets to attend the most unpredictable nights the corner of Bridge and Main has ever witnessed!
We see a lot of potential walking around the streets of Phoenixville on any given First Friday– hacky-sackers, sax players, break dancers, gymnasts, fire twirlers and even stranger talents are all on display on the street for free. Now's their chance- and your chance– to show off and get paid for it!
Not to mention, you could become known as Phoenixville's most talented person of 2011!.