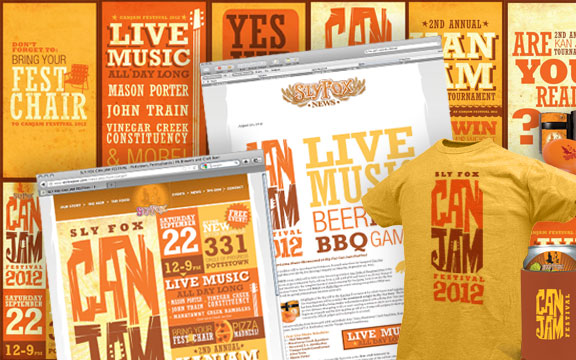 Sly Fox Brewing Company's Can Jam Festival is an unique event celebrating the can or more specifically, craft beer in cans! More specifically still, Can Jam 2012 celebrated Sly Fox cans!
Sly Fox, as a brewery, was one of the pioneers of the new aluminum movement and the Pottstown, Pennsylvania brewery currently cans six of their popular beer styles with three more on the way this month. All of the cans' like all of the growing brewery's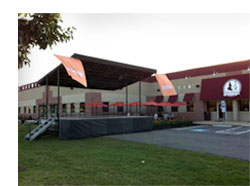 marketing efforts' were strategized and designed by Virtual Farm Creative.
Can Jam 2012 was a day long festival held on the brewery grounds which include an adjacent 4 acre lot. The day began with a Kan Jam Tournament that included 64 teams. Kan Jam is a game like horseshoes except partners attempt to tip a flying disc into a can. Sly Fox adopted the game and modified the rules so that all players must play with a can in their hand at all times. VFC was instrumental in organizing the tournament and has promoted Kan Jam since Sly Fox first brought it to the region.
The event also included live music on a massive stage throughout the day. Six bands in the Americana genre performed while as many as 2000 attendees enjoyed Sly Fox beers, the brewery's brick oven pizza and delicious BBQ from the competition cooking team, Philly Pigs.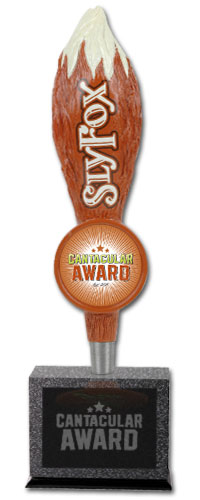 During the festivities the brewery presents an annual "Most Cantacular" award to the person, place or entity that has done the most to champion craft beer in cans. VFC developed the award idea as a peripheral marketing effort and used the alternate web site, cantacular.com to promote the effort. The Cantacular campaign is a non-traditional approach where in all content and strategy was devised by VFC to push consumers toward the parent brand in a unique way.
The Can Jam Festival boasts its own original identity and standards developed and promoted by Virtual Farm Creative. VFC promoted the event in an aggressive social media campaign and developed apparel, retail components, print collateral, signage, branded email announcements and a website complete with a registration form and online payment solution for interested Kan Jammers.
Can Jam 2012 is one of three major events that VFC is promoting and helping to coordinate in as many weeks.