Leaders need to be bridge builders, not bridge burners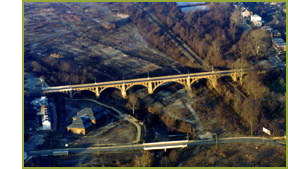 The symbolism behind Phoenixville Pennsylvania's Gay Street bridge deconstruction couldn't be more prophetic. As the Borough of Phoenixville undergoes a positive metamorphosis, the deteriorating span connecting one of the main north-south arteries to the historic borough is being demolished and will be replaced by a stronger, more reliable bridge. Now, during deteriorating economic times the borough requires everyone involved in Phoenixville's renaissance to assume the role of bridge builder.
WORKING TOGETHER
For the most part, that is exactly the kind of collaborative effort that a visitor to Phoenixville's downtown district will notice on the macro level– retailers and merchants working together to achieve common goals and to support the common good.
Collaboration is key in a master plan to turn a community around and it's important to realize that good ideas can come from anywhere. As opportunities within the Borough continue to present themselves, we can reflect that it was a group effort that got the Borough this far and a group effort that can turn consumers away from malls and bring them back downtown.
Phoenixville's success thus far is not the result of a singular vision, but the long-term synergy of forces throughout the economic region. In fact, bridges to specific, successful milestones along Phoenixville's renaissance timeline have been influenced by entities from Washington State to Dublin, Ireland. Wherever they originate, we should treat idea contributors and big picture people as resources instead of threats.
CULTURAL ECONOMICS
Clearly, Phoenixville's economic and cultural destinies are as forever linked as the literary phoenix and the flame. Branding Phoenixville as a destination for the arts is beneficial for the entire Borough, but diversity in that effort shouldn't be overlooked. Are the cultural opportunities of those that will contribute to the economy most being fully realized and represented?
SUPPORT THE FLAGSHIPS
It's encouraging that Phoenixville has come this far without a national chain anchor. Wisely, smaller and newer merchants give props to the bigger players and support them and their individual campaigns to draw consumers into the Borough. Unlike the steel foundry past, it's not a single industry that draws people to Phoenixville these days and, as the economy undulates, business interests support one another's organic growth.
Echoing a column I authored in May 2006 in which many ideas have come to fruition, here are some other ideas on how Phoenixville might continue to evolve as a great place to live, work and play: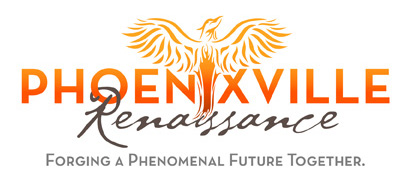 Forge an Identity: This old steel town has a lot of character and a standard-setting, professional logotype – illustrative of the borough's personality, coupled with a clever and memorable tagline – can power a creative collateral campaign.
Create gateways: Phoenixville has several main "in-roads" that could serve as prominent and impressive entryways into a vibrant community with compelling physical arches, sign posts, banners or flags.
Mural redundancy: In 2006 I noted that Phoenixville's potential has always been defined by a central image – the mural on the side of the Steel City Coffeehouse. Now, the impressive artworks behind the Colonial Theatre and on the side of the Iron Hill Brewery & Restaurant are boosting the Borough's brand and there is an opportunity to create a buzz while beautifying more sad sidewalls.
Community involvement: Create incentive programs for Borough homeowners to beautify neighborhoods that could evolve into a community association environmental standard. Contests for the "neatest block" with the winner being published in the paper each week would go a long way toward propagating public pride.
Be Green: There are abundant opportunities to creatively solve Borough problems in ways that benefit the current and future environment. With the help of like-minded businesses the Borough could be promoted with reusable shopping bags, planting perennials instead of annuals, limiting traffic on Bridge Street by developing a town-wide bike-lending program.
Tell the World: A multi-function Internet presence promoting the Borough is vital to the initial and ongoing promotional campaign and can be an exciting tool to allow merchants to collectively support their singular missions while providing an organized, critical resource for residents and visitors.
Promote Tourism: By creating categorical micro-campaigns for like-minded entities, the Borough can positively promote visitation in powerful ways. Working with, say, the antique shops, the restaurants or entertainment venues to create synergistic missions that brand the Borough as a destination for special interest groups is a no-brainer.
So, for a brief period in the Borough of Phoenixville, Pennsylvania's rich and colorful history, we will be without one of our most historical bridges, but with collaboration and creativity, a new and better bridge will become a part of a new and equally exciting history.