Breathing New Brand Life


Branding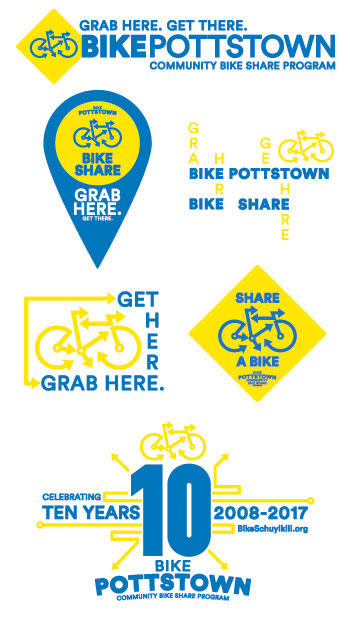 Programs that have gone on as long as ten years without care and feeding can, quite expectedly, start to wither on the vine. In a perfect world, brands would touch all of their campaigns and programs at least annually, to make adjustments that help them better connect with the target audience.
With the ten-year anniversary of Bike Pottstown, a program offering free bike use from the Borough right along the Schuylkill River Trail, VFC was charged with developing renewed program branding and a creative campaign to announce the milestone and increase the number of people taking the bikes out.
The offering is desirable and a success in cities all around the country. We elected to aim messaging at potential targets–namely people who didn't already own bikes–and to reach them where they're most likely to be found riding the bus or walking.VFC negotiated ad placement with Pottstown Area Rapid Transit and launched an environmental campaign that included colorful identifiers. The compelling brand treatments will get noticed on posters positioned in local merchant's storefronts and on palm cards distributed to the public. We also developed a premium–a bike water bottle blasting the offering–to make the messaging that much more meaningful.

Advertising
Dependable vehicles for ad messaging are lacking in Pottstown, however, a multi-pronged campaign featuring consistent messaging can effectively garner community support and disseminate messaging. Merchant poster displays and the ads positioned on Pottstown Area Rapid Transit require more leg work, but are more effective in this market.

Collateral
Handouts work when the offering involves a level of complexity, and positioning palm cards as a value-added flier that recipients might retain or even share, helps spread the word about Bike Pottstown. Not only does the flier communicate the features and benefits of the program, but the custom identifiers are utilized to reinforce the location of the bikes. When distributed with custom water bottles the program's point is driven (or ridden) home nicely!

Social Media
The imagery developed for the collateral campaign is repurposed with engaging photography of people riding bikes on the nearby Schuylkill River Trail and motivational messages will serve to educate a growing audience about Bike Pottstown. Ideally, the social effort will translate to significant word-of-mouth marketing until the campaign trickles down to the target audience. The objective is for use of the free yellow bikes to grow on the 10th anniversary of a cool community program and into the future.