Sometimes small, owner-operated organizations with the willingness to be creative allow for the most dynamic execution. When stakeholders have a vision that their brand can be as excellent as their offering and they make the commitment to work with VFC, amazing things can happen!In this case a little service station—long heralded for their excellent, honest service—makes the move to upgrade their brand with consistent, professional, competitive branding that improved everything from roadside presentation to web and social media efforts.

Developing an original, creative brand and supporting it with strong, consistent standards allows companies of all sizes to present a more professional and confidence-inspiring image. Here, Story's Garage in Phoenixville, Pennsylvania, displays their new brand underscored by bold, memorable graphics and an arresting palette that translates to their buildings' color scheme.
Once VFC develops the standard for a small business brand it can logically and economically be applied to any advertising vehicle. VFC brand management means we undertake the production of everything from uniforms and retail t-shirts to custom stickers and signage.
Once we develop a marketing mission and positioning statement we can execute direct mail and email blasts that create conversions. Your local sign company just can't deliver this level of strategy to small businesses.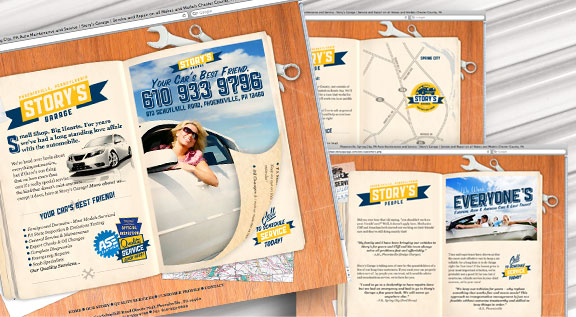 An engaging Internet presence with the chief objective of communicating effectively to past, present and potential customers, is paramount to every small business campaign. A small shop now boasting big brand bling, Story's Garage in Phoenixville, PA also launched a speedy little website that is completely integrated with a social media and SEO campaign.