When you boil it down, there are two rejected concepts for every selected direction.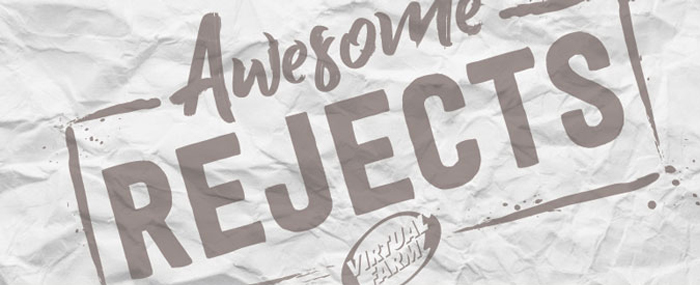 What we do at VFC
When you boil it down, we like to say that…
VFC works hard to understand our clients' businesses and their offerings and we help them to effectively and professionally communicate their mission and value to various audiences with different motivations to ultimately reach specific objectives like increased exposure, visitation and sales.
When you boil it down even further, we like to say that…
VFC understands our clients' offerings and creatively explains them to defined target markets to reach specific objectives; like increased exposure, visitation or sales.
When you boil it down further still, we like to say that…
VFC cultivates business personalities!
Virtual Farm Creative creates personalities for businesses with specific goals in mind. How we do it is a closely guarded secret, but we generally undertake competitive research and market studies; develop a creative brief with meaningful creative criteria and present three (3) concepts and three (3) complete iterations for each project that will inform the band's personality.
In the case of corporate and organizational identities—indeed with most of the projects for which VFC presents three concepts—we attempt to develop a safe choice, a middle-of-the-road choice and an alternative that meets the criteria, accomplishes objectives, targets the defined audience AND pushes the envelope for design and/or message.
It's why everyone who works in advertising, design and commercial art all got into the business in the first place—to spread our creative wings. Many account relationships eventually devolve into the clients telling them exactly what to do but, until then, every creative director, art director, copy writer, designer and graphic artist worth a pixel will always try to do more with less.
We want to engage more people with communication arts by making them think, laugh, sigh and cry. Much of our daily existence is spent staring at an illuminated box in the execution of the plans to cultivate personalities for businesses. When we have the opportunity to plan, strategize and propose clever creative we get very excited. In fact, you could say it is what drives us here at VFC.
Feelin' Rejected
Most times, the out-of-the-box campaigns are well-received by forward thinking, progressive clients who respect and value the diverse, collective experience that VFC team members bring to the table and some iteration of the concept will see the light of day.
Other times—and the reasons are many—the more extreme, radical and, in our opinion, effective of VFC's three conceptual campaigns are passed over in favor safer choices. And, sometimes VFC identifies a need that the brand owner doesn't agree with or see the value in.
In other words, VFC will often present a solution to a problem that doesn't exist and that will result similarly in an unwanted or rejected campaign concept. The rejected concepts can be plans, tag lines, headlines, programs, web applications, layouts, logos, anything… In any case, there are at least two rejected concepts for every selected direction.
Here are some recent corporate identities that were not used that we always felt had a lot of promise:



Maybe the client used an alternative choice, maybe they didn't use any, maybe they took our concept to a different designer, maybe they weren't even a client at all and we tried to help them! Que sera sera because, when you boil it all down, VFC is here to cultivate business personalities.
Checkout more of the personalities VFC created in our portfolio.